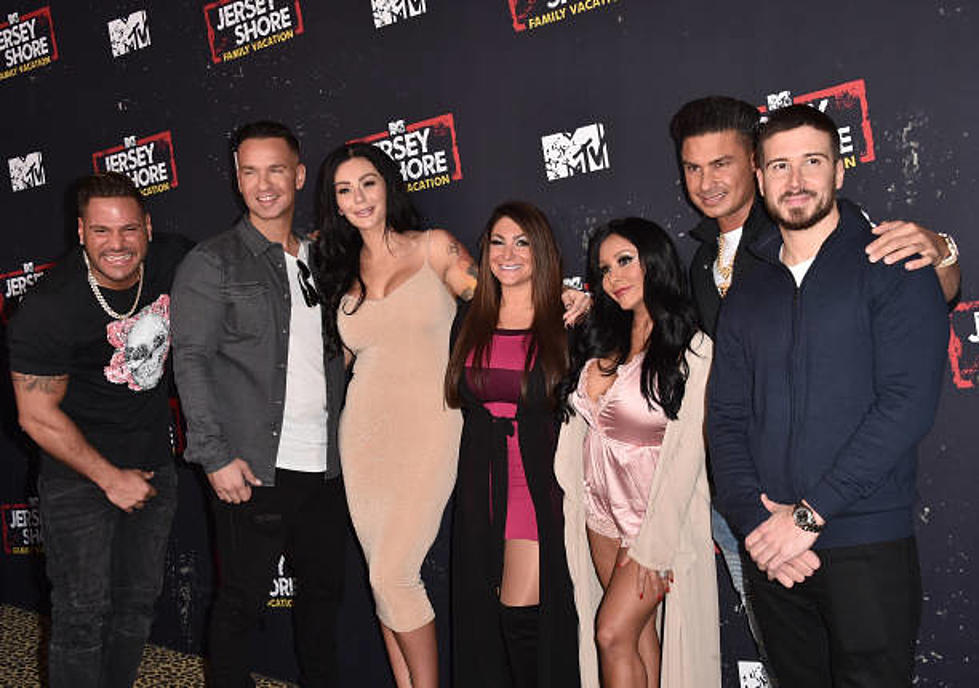 Jersey Shore Family Vacation Is Coming Back And We Got Scoop
Getty Images
How many vacations do you go on in a year?  I'll bet you don't go on as many as the cast of Jersey Shore Family Vacation. Yep, they are vacationing again and getting paid millions for it. Will you watch?  Here's some inside scoop to help you decide...
I have seen them filming on a few occasions just being around town. When everyone was saying Snooki was not coming back on the show I just snickered because I saw her having lunch with Angelina at Lucco in Florham Park filming. It's fun to know things first.
That's why I wanted to let you know some new season scoop:
*Season 5 isn't just a Jersey production…they will be in the Florida Keys too.   They'll be coming back to their roots too…remember how Sitch lived in Long Branch? Well, he'll bring the fam to his favorite steak house, The Butcher's Block restaurant for sure.
*Pauly D and his girlfriend, Nikki Hall are still going strong according to pics posted on the cast's social media.
*This season we'll get to see the roomies meet baby Sitch, a.k.a. Romeo, as well as Deena's baby Cameron Theo Buckner.  (Deena lives in Jackson btw)
*Angelina used to live in Matawan and just moved to Freehold (I thought she was the Queen of Staten Island?)
*Ronnie Ortiz-Magro is still on a break from the show because of all his legal drama. I predict him coming back after some good PR coaching.
*Snooki will make her "official return" as if we didn't know that was coming.  She may have needed a break (the show was down with that idea for some drama) but this gig is too good to leave. She's smart to ride the wave until the end.
* You can see the new season on Jan 6th on MTV...
18 Celebrities You're Most Likely To Encounter At The Jersey Shore
29 New Jersey Born Celebrities And Their Net Worth
Things You Might Not Know About New Jersey Celebrities