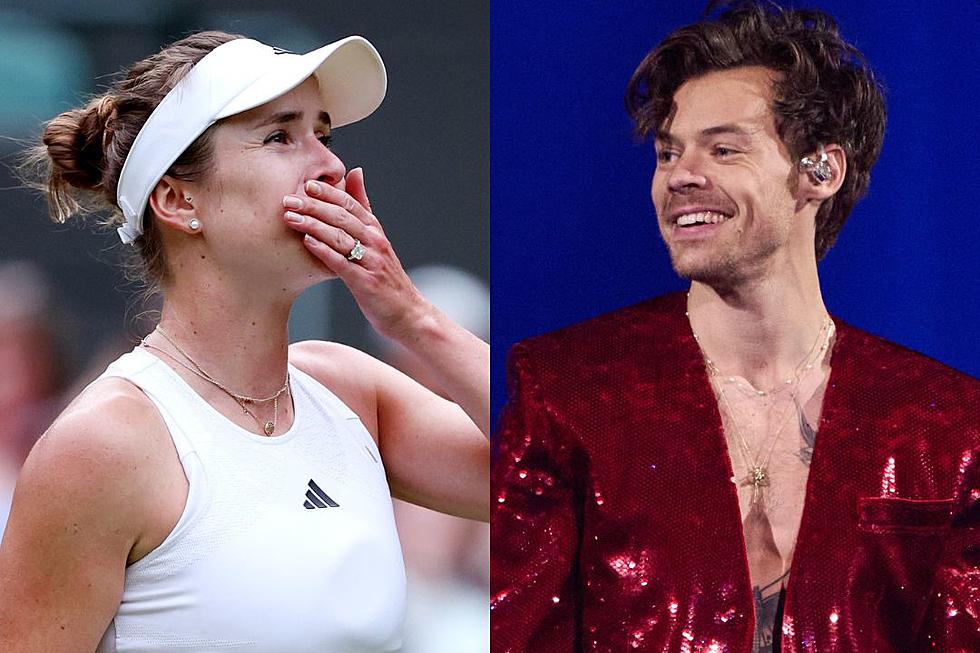 Wimbledon Player Who Had to Sell Her Harry Styles Concert Tickets Gets Personal Invite From Pop Star Himself
Patrick Smith / Gareth Cattermole, Getty Images
Ukrainian tennis player Elina Svitolina is winning more than just Wimbledon matches after catching the attention of her favorite pop star, Harry Styles.
During an interview at the iconic tennis tournament in London, England, Svitolina was asked about having to sell her Harry Styles concert tickets in order to play at Wimbledon.
"You were supposed to go to a concert — Harry Styles concert — yesterday. You gave the tickets away! This is a bit better than that, isn't it?" the interviewer asked as Svitolina laughed.
"Well, I hope Harry is watching... I'm just a big fan of his, so you know, just like..." the 28-year-old tennis player replied, holding up a hand heart.
Watch below:
"Hey guys!! I was supposed to go to see my fav @harrystyles concert in Vienna tomorrow... But Wimbledon changed my plans. Someone want to go? I have two tickets," Svitolina announced on her Instagram account on July 8.
"You win some, you lose some," the official Wimbledon account captioned a re-post of the tennis player's post.
READ MORE: Harry Styles Stops Concert for Pregnant Woman, Chooses Baby Name
Luckily, Styles saw the post and left a comment of his own.
"Congratulations! We have four shows to go, you're welcome at any of them. Good luck with the rest of the tournament. H," the performer commented.
In another Instagram post from July 8, Svitolina shared a photo of herself during a Wimbledon match. "Missing @harrystyles concert. But well... it's ok, I guess," she captioned the image.
Svitolina is still in the running to win Wimbledon after she beat competitor Victoria Azarenka. In her post-game interview, she called the win "the second happiest moment in my life" after giving birth to her daughter, Skai, in October 2022, according to Sportskeeda.
Before she can finally go to a Harry Styles concert, Svitolina will compete against Poland's Iga Swiatek, a tournament favorite, in the quarter-final.
Celebrities Who Got Starstruck by Other Famous People