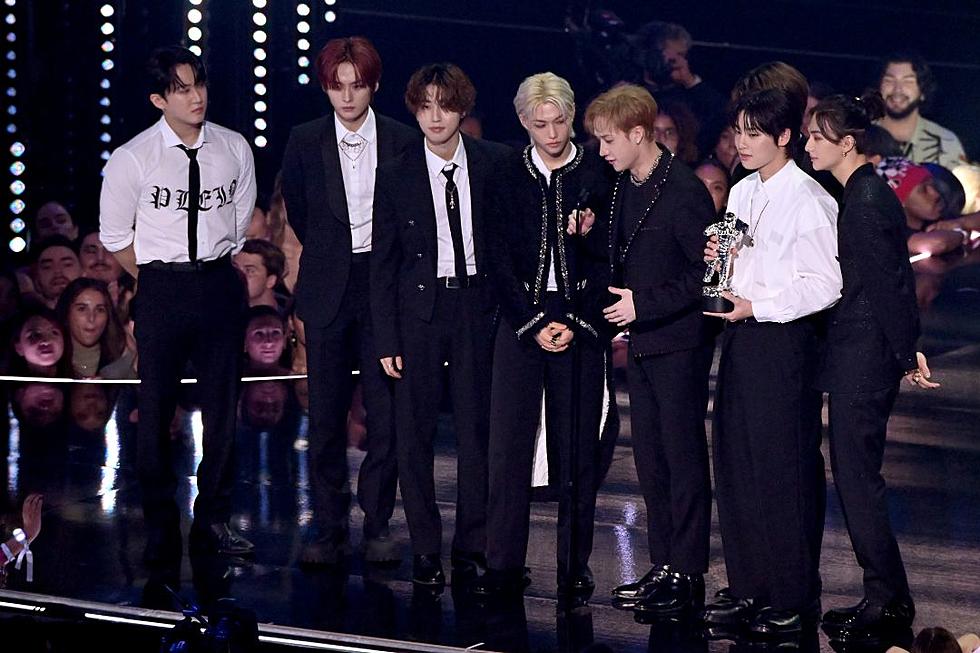 Stray Kids Literally Had the Cutest Reaction to Winning Best K-Pop at the VMAs
Noam Galai, Getty Images
Stray Kids had the cutest reactions to winning the award for Best K-Pop at the 2023 MTV Video Music Awards Tuesday (Sept. 12).
The K-pop band appeared completely stunned when sisters and influencers Charli and Dixie D'Amelio called their name from on stage.
The eight-member group was up against tough contenders such as TXT, Blackpink and Seventeen, but their energetic, electric presence pushed them to the top.
"Us?" leader Bang Chan seemingly mouthed from the crowd as the group stood to accept the award, while all of the members looked around at each other, visibly stunned.
The boys made their way to the stage amid loud cheers from the audience, and in their acceptance speech, they made sure to thank their fans, the STAYs, for their support.
"Hello, we are Stray Kids. First of all, we'd like to thank, you know, the VMAs for inviting us. We've been making our music ever since the start of our career, but to receive this award just really means a lot to us," Bang Chan began, before Felix took the mic.
"We just wanna thank our label JYP Division One, and we wanna thank Republic Records, and also, we wanna thank our fans, our STAYs, for being so supportive. We have so much to show you guys, so please look forward to the future," Felix said.
READ MORE: See the Full List of 2023 MTV VMAs Winners
The award marks the first time Stray Kids have won a Moon Person and the first time the group has won an award in the U.S.
In 2022, the group was nominated for a VMA for "Maniac" but didn't win. This year, "S-Class" nabbed them the Moon Person trophy. They will perform the song in its U.S. broadcast debut on the live telecast.
The K-pop stars debuted in 2018 with their I Am Not EP, followed by their first studio album in 2020. Ever since, they've enjoyed a meteoric rise internationally, embarking on two world tours.
2023 MTV Video Music Awards Red Carpet Fashion
From Olivia Rodrigo's stunning silver number to Doja Cat's barely there spider web gown, these 2023 MTV VMAs looks had us doing a double take.