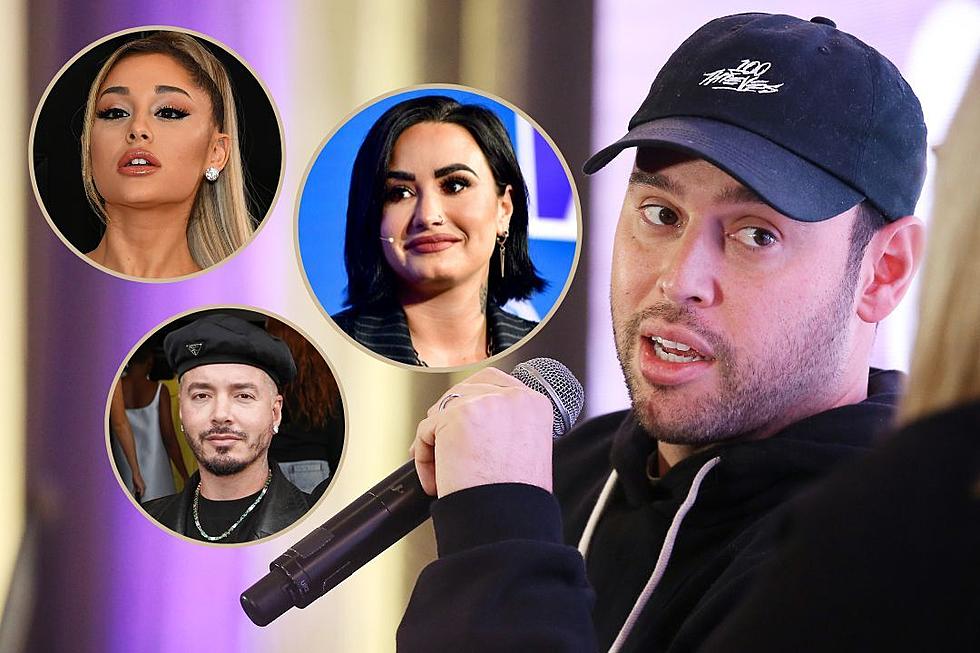 Scooter Braun Is Losing Major Clients Left and Right — Why?
Michael Tran / John Phillips / Amy Sussman / Jerod Harris, Getty Images
Scooter Braun is one of the most well-known artist managers in the music industry, thanks to his discovery of a young Justin Bieber on YouTube in 2007. Now, 16 years later, he's mysteriously losing his most high-profile clients, potentially including Bieber.
On Aug. 18, a reporter for Puck claimed that Bieber and Braun haven't spoken in months, and that Bieber is planning to leave Braun behind as his manager after more than 15 years of working together. However, representatives for both told Billboard that the "rumors" were untrue.
Days later, it seems that Braun's entire client list — which once included top pop stars such as Ariana Grande, Demi Lovato, Tori Kelly, Carly Rae Jepsen, J Balvin and more — is unraveling at the seams.
Here's what we know about everything going on at SB Projects.
Scooter Braun Loses Ariana Grande, Demi Lovato and More

Shortly after it was reported that Bieber might be parting ways with Braun, other big stars seemingly followed suit, including Frozen star Idina Menzel, who reportedly left Braun in January, and Ariana Grande, who briefly left Braun in 2016 before returning to his agency.
According to Variety, Latin pop star J Balvin, who signed with Braun's company SB Projects in 2019, recently "amicably" parted ways with the talent manager. Newsweek reports he signed with Jay-Z's Roc Nation Management in May.
Demi Lovato, who signed with Braun in 2019 after leaving her former manager following her near-fatal drug overdose in 2018, has also reportedly parted ways with Braun. In 2021, Lovato released their comeback album Dancing With the Devil... The Art of Starting Over under Braun's management following a brief music hiatus.
Variety also reports both The Kid LAROI and Kanye West have had on-again, off-again business relationships with Braun's management company.
Why Is Scooter Braun Losing Clients?
According to a source who spoke to Variety, Scooter Braun is trying to step back from artist management due to his new role as CEO of HYBE America, which he sold his parent company, Ithaca Holdings, to in 2021.
HYBE is best known as the South Korean company behind international superstars BTS, TXT and more.
READ MORE: Kelly Clarkson Says Scooter Braun Was Hurt Over Taylor Swift Note
"All of Scooter Braun's clients are under contract and negotiations have been going on for several months as Scooter steps into his larger role as HYBE America CEO. People are spreading rumors based on what they know, but they are off. Scooter's team at SB Projects are still handling both Justin and Ariana as they work through what this new structure looks like," the source claimed.
"He's getting out of management — he has been for years. That's the real story," another source said.
Is Scooter Braun in a Scandal?
Another source told Variety that there might be some unsavory revelations brewing about the manager, which could be why his biggest clients appear to be dropping him.
"He's imploding. It's a different world since the pandemic. You just can't be an a--hole like that anymore," the source said.
"Why's everyone jumping ship?? If something does come out about Scooter Braun I'll still side-eye all the artists that defended him," one person tweeted about the rumors of an impending scandal.
Plus, many people online have speculated that there could be some behind-the-scenes drama due to so many major artists reportedly leaving the company all at once.
Braun's reputation took a major hit in 2019 when he purchased Taylor Swift's former label, Big Machine Records, which gave him the ownership rights to her first six albums. Swift posted a lengthy statement against the acquisition at the time and went on to re-record those albums as "Taylor's Version."
"Alexa play 'Karma' by Taylor Swift," one fan tweeted about Braun following the news of his supposed mass client exodus.
"He's always been a sleazeball in my eyes so I'm seated for the downfall," another person tweeted.
Scooter Braun Addresses the Rumors
Scooter Braun has not formally addressed the rumors surrounding his management company or clientele in a statement.
However, on Aug. 22, he posted a tongue-in-cheek tweet alluding to all the speculation.
"Breaking news... I'm no longer managing myself," he joked.
America's 10 Most-Googled Musicians of 2022
Below, discover the 10 most-Googled musicians of 2022 in the U.S.