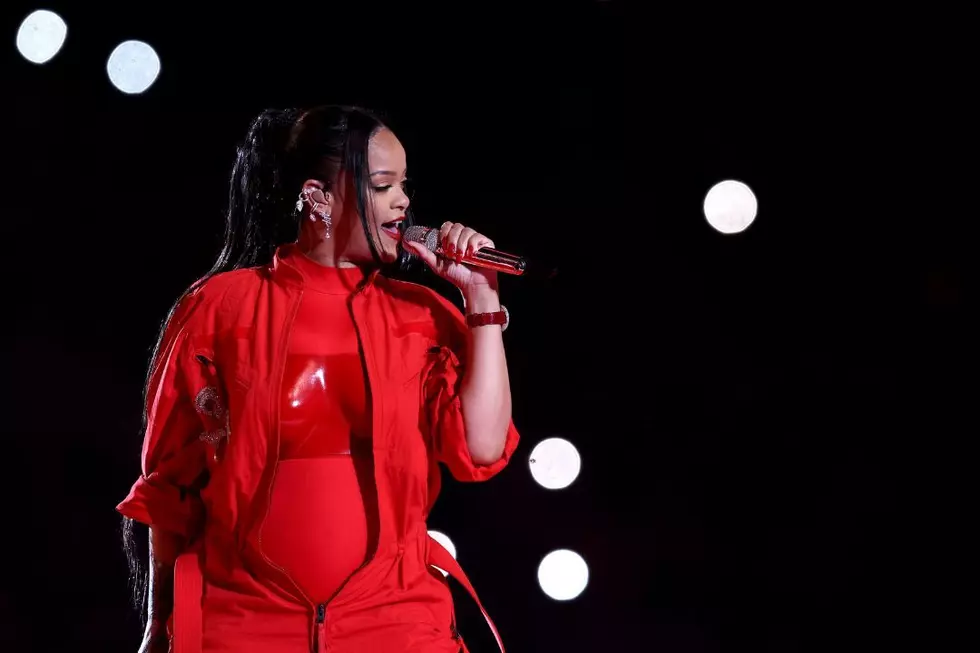 Yes, Rihanna Was Pregnant During Her Halftime Show Performance
Gregory Shamus, Getty Images
Rihanna is pregnant and expecting her second child!
A rep for the "Umbrella" singer confirmed the news to The Hollywood Reporter following Rihanna's 2023 Super Bowl Halftime Show performance Sunday (Feb. 12).
During her headlining set, Rihanna sparked pregnancy rumors when she rubbed her belly.
On social media, many fans speculated about the star possibly being pregnant.
"When Rihanna rubbed her belly I knew that was the hint," one viewer tweeted during the Halftime Show.
Ahead of the Halftime Show, Rih hinted at her pregnancy ahead in an interview with Nate Burleson.

When asked if she was planning to feature a surprise guest in her performance, she quipped, "I'm thinking about bringing someone."
Rihanna spoke about motherhood ahead of her Halftime Show set.
"When you become a mom, there's something that just happens where you feel like you could take on the world — you can do anything. And the Super Bowl is one of the biggest stages in the world, so as scary as that was … there's something exhilarating about the challenge of it all. It's important for my son to see that," she said, according to The Hollywood Reporter.
Rihanna shares a 9-month-old son with rapper A$AP Rocky, who was on hand to watch Rih's Super Bowl 57 performance.
On social media, fans applauded the star for performing while pregnant.
"As someone who currently has to take multiple breaks when walking through Ikea, Rihanna doing an entire halftime performance whilst pregnant is beyond impressive," one fan wrote on Twitter.
Rihanna gave a stunning performance during her 13-minute show, narrowing down her extensive catalog of hits to just 12 songs including "Wild Thoughts," "Rude Boy," "Umbrella" and more.
Rihanna's 2023 Super Bowl Halftime Show Performance
See photos of Rihanna performing during the 2023 Super Bowl Halftime Show on Feb. 12, 2023.
Stars Who Performed While Pregnant