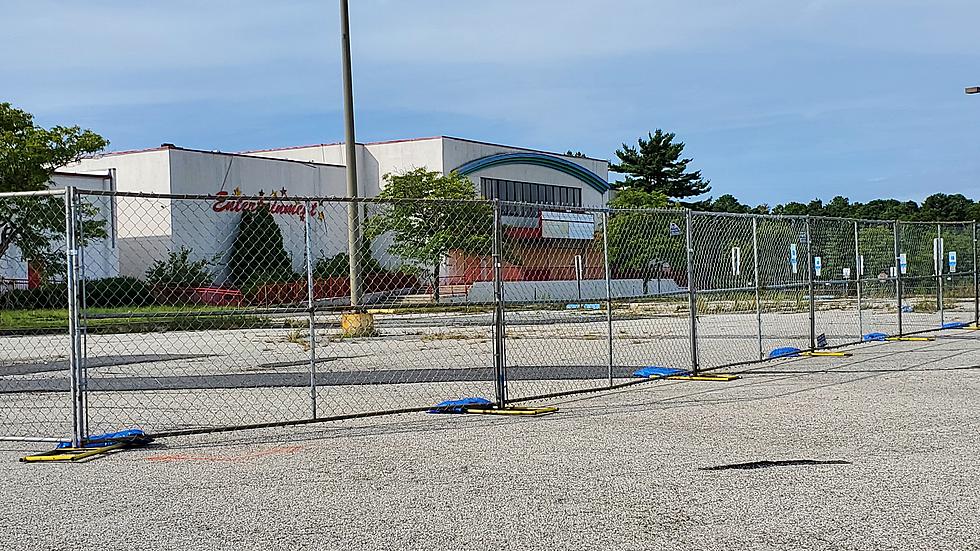 Is the Old Towne 16 Theater in Egg Harbor Township Being Torn Down?
Towne 16 Stadium theater in Egg Harbor Township NJ - Photo: Chris Coleman
Is this the beginning of the end for the long-closed Towne 16 Stadium theater at Harbor Square in Egg Harbor Township?
Within the past day or so, a temporary chain link fence has encircled the old movie house -- and typically that means one of three things. One, they've had a problem with people breaking into the building (a quick glance around the property Tuesday morning didn't show any visible signs of major vandalism); two, a large-scale remodeling project is about to begin (big enough to want to keep people a safe distance away from the building); or three, demolition crews will soon be at work there.
And for the record, we haven't seen any official announcements about plans to transform that property, reopen it as a movie theater, or demolish the current building, so this is a lot of speculation on our part.
The Towne 16 abruptly closed in September 2018. At the time, owner Bruce Frank told The Press of Atlantic City that the theater would be reopening in the near future, remodeled with dine-in recliners, a full bar, arcade, and a bowling alley. Those plans never materialized and the theater has remained shuttered since.
In the summer of 2019, the theater was listed for sale along with the neighboring former Outback Steakhouse building for $3.8 million. The asking price was lowered to $3 million several months later.
One real estate website indicates the property is currently under contract while another site says the property sold last year for $3.9 million. Driving by the theater Tuesday morning, the for sale signs that used to be affixed to the building were no longer there.
That property has had a long history of showing movies in our area. The Atlantic Drive-in opened there in the summer of 1950, which closed in the mid-1980s. The Towne 4 that was built at that site was expanded over time to become the Towne 16.
If the Towne 16 is being demolished, here are some ideas for what could be built there
For whatever reason, South Jersey seems to be lacking many chain restaurants that are commonplace in practically every other part of the state. Here's how we can change that...
If you have heard what is happening at the Towne 16, please drop me an e-mail.
31 Random Old South Jersey Pictures I Found on My Cell Phone