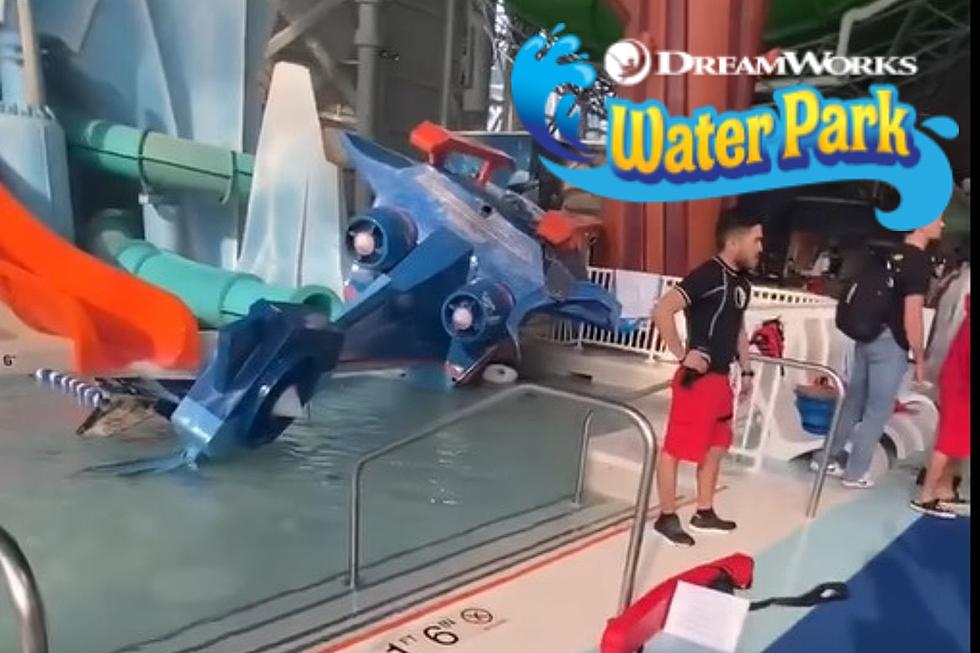 Injuries at NJ mall: Prop helicopter falls into American Dream pool
Prop helicopter after falling into a pool at the DreamWorks Water Park at American Dream (Evaa Mariee via Facebook)
🔴 The helicopter was suspended four stories above the Penguin Play Slide kiddie pool at the DreamWorks Water Park
🔴 Three people were treated at the park. One person was hospitalized
🔴 The largest indoor water park in the country will be closed through Wednesday
---
EAST RUTHERFORD — The Dreamwork Waterpark at the American Dream is closed Monday after a prop helicopter fell into a kiddie pool Sunday afternoon.
The blue helicopter suspended four stories above the largest indoor water park in the country crashed at 3 p.m. into a small pool, according to State Police Sgt. Philip Curry.  (WARNING: Video link contains profanity).
The helicopter hanged over an area of the park called Penguin Play Slide, which is an area for young children.
The park Monday afternoon updated its website that the park will remain closed through Wednesday.
Visitors injured by falling helicopter
Three people struck by the prop were treated by first responders on site while a fourth was taken to a hospital for treatment.
The waterpark was closed for the rest of the day after the fall.
"Scary time at Dreamworks water park at American Dream Mall! A large helicopter display fell on to a kiddy pool and slide area! Chaos soon after. The sound was scary then the screaming from parents and kids," a visitor said on Twitter.
"When that thing fell it was soooooo loud at first I didnt realize what happened. I thought it was a bomb. The panic set in when people were screaming and the lifeguards rushed over to the scene," a visitor wrote on Facebook.
Another visitor told CBS New York that she heard a bang that sounded like a bomb when it hit the water.
The cause of the fall remains under investigation.
Earlier tragedy at Big Snow
In December, Airman First Class Peter R. Matthews, of the Maryland Air National Guard, fell backward and hit his head while snowboarding at Big Snow.
He and a group of friends from Long Island stopped while heading to Vermont to ski, his sister told Newsday.
On the day after Christmas, it took over two hours to exit the American Dream parking lot after eight minor crashes snarled traffic, according to State Police. The mall said it had unprecedented volume and foot traffic that contributed to the issue.
Dan Alexander is a reporter for New Jersey 101.5. You can reach him at dan.alexander@townsquaremedia.com
Click here to contact an editor about feedback or a correction for this story.
LOOK: These are the most Instagrammed sports stadiums in the world
OLBG
analyzed Instagram hashtags & revealed the most Instagrammed sports stadiums across the world, including those here in the United States. The top 10 are listed below, based on available data from February 7, 2023.
Every NJ celebrity with a star on the Hollywood Walk of Fame
New Jersey Goodwill stores will not accept these items