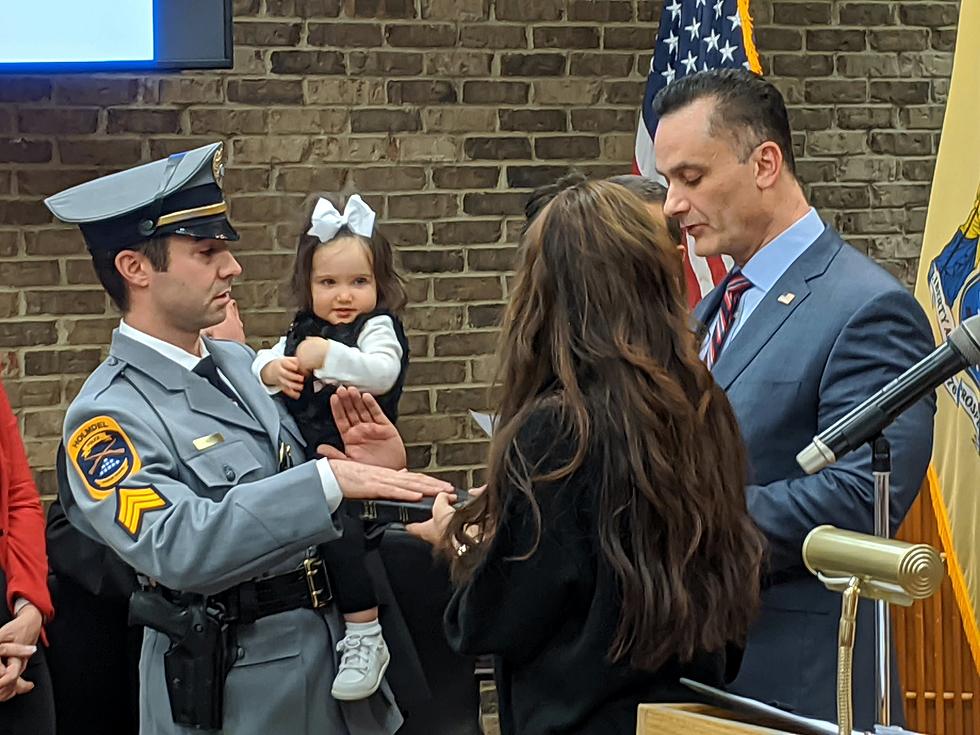 NJ Police Officer who arrested 'Pooperintendent' is promoted to Sergeant
Holmdel Police Officer Jonathan Martin is promoted to Sergeant. (Holmdel Township Government)
Holmdel Police Officer Jonathan Martin, who caught the public eye as the officer who arrested the Kenilworth Superintendent who defecated on the Holmdel High School track, has been promoted to the rank of Sergeant.
It goes without saying that the reason for the promotion had nothing to do with the arrest of the so called 'Pooperintendent' but more to do with his efficiency on the job.
A Holmdel Police Sergeant had retired on December 31, 2019 leaving an opening for that rank within the department.
Officer Martin then became Sergeant Martin in an official swearing-in ceremony this week at the municipal building during a committee meeting surrounded by his family.
The former Kenilworth Superintendent, Thomas Tramaglini, who lives in Matawan, gained notoriety in April of 2018 when he was charged with lewdness, littering and defecating in public after a Holmdel High School employee investigated a report of human feces being found on or near the track on a daily basis.
Officer Martin set up a surveillance camera at the Holmdel High School athletic complex after police got reports of "ongoing instances of feces having been found in and around the running track and football field," according to court documents obtained by NJ.com.
In October of 2018 in Holmdel Municipal Court, Tramaglini said he suffered from a medical condition called runner's diarrhea and entered a guilty plea to defecating in public.
Holmdel Police Chief John Mioduszewski has not returned a request for comment as of Thursday morning to WOBM News on the promotion of Officer Martin to Sergeant and discussing how his work as an officer overall led to that promotion.
This article includes previous reporting from Dan Alexander and Erin Vogt.
Enter your number to get our free mobile app