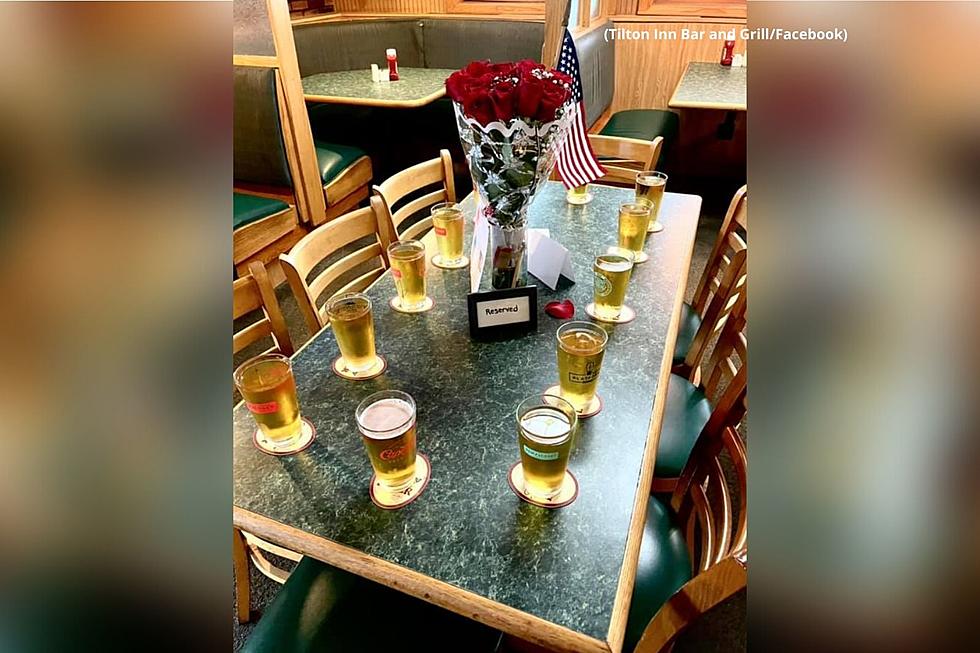 EHT Bar and Restaurant Pays Touching Tribute to the 13 U.S. Soldiers Killed Recently in Afghanistan
Tilton Inn Bar and Grill/Facebook
In a beautiful yet haunting honor, a popular bar and restaurant in Egg Harbor Twp. reserved a table for the 13 U.S. servicemen and women who lost their lives in a suicide bombing in Afghanistan earlier this month.

Well done, Tilton Inn Bar and Grill, well done. This tribute stopped my heart the moment I saw it. A table with 13 pints of beer waiting for soldiers who will never drink them. 'Thank You for Your Service' notes for eyes that will never read them. Red roses for noses that will never smell them.
There is tremendous impact in this simple gesture. Just looking at it brings on the need for a moment of silence. It feels very solemn.
On August 26th in Kabul, Afghanistan, those 13 service members (12 marines and a navy medic) made the ultimate sacrifice for their country and for the Afghan citizens they were trying to protect as the United States began to withdrawal our troops from that country after 20 years, paying with their lives.
Dozens of Tilton Inn patrons praised the bar and grill for its tribute. Jenn Shallow-Weldon writes in the comments of Tilton Inn's Facebook post, 'This is why we love this establishment'. Mandy Christopher said, 'A beautiful tribute to our fallen soldiers.
Since publishing this story earlier, some of our listeners let us know about a few other local establishments reserving tables like Tilton Inn, like Crossroads Bar & Grill in Egg Harbor City and McGettigan's 19th Hole in Galloway:
Please remember:
U.S. Marine Sgt. Johanny Rosario
U.S. Marine Cpl. Hunter Lopez
U.S. Marine LCpl. Kareen Nikoui
U.S. Marine LCpl. Rylee McCollum
U.S. Marine LCpl. Jared Schmitz
U.S. Marine LCpl. David Lee Espinoza
U.S. Navy Corpsman Maxton Soviak
U.S. Marine SSgt. Taylor Hoover
U.S. Marine Cpl. Deagan Page
U.S. Army SSgt. Ryan Knauss
U.S. Marine Cpl. Humberto Sanchez
U.S. Marine Sgt Nicole Gee
U.S. Marine Ricky Thompson
LOOK: What major laws were passed the year you were born?
Data for this list was acquired from trusted online sources and news outlets. Read on to discover what major law was passed the year you were born and learn its name, the vote count (where relevant), and its impact and significance.
The 25 Most Dangerous Roads in New Jersey
NJ teachers and educators caught in sex crime busts
Over the past few years, state lawmakers have taken on the challenge of dealing with accused child predators among the ranks of teachers and educators.
In 2018, the so-called "pass the trash"
law
went into effect, requiring stricter New Jersey school background checks related to child abuse and sexual misconduct.
The follow individuals were arrested over the past several years. Some have been convicted and sentenced to prison, while others have accepted plea deals for probation.
Others cases are still pending, including some court delays amid the COVID-19 pandemic.