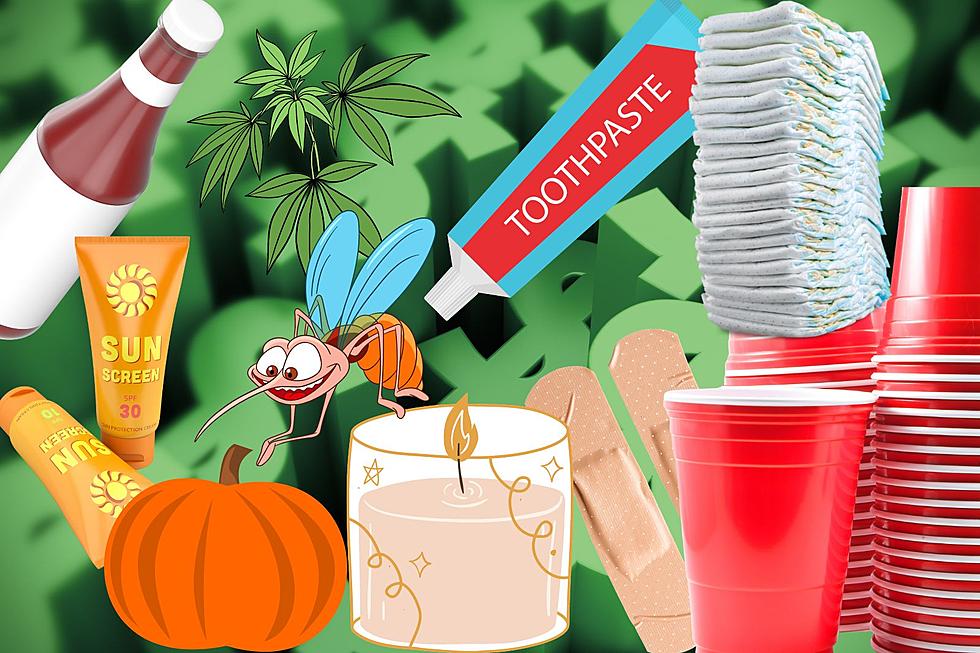 Bizarre things New Jersey taxes, and things it does not
Canva/Townsquare Media illustration
💲 New Jersey's sales tax is not applied equally to everything you buy
💲 Some things that are taxed, or not, don't seem to make sense
💲 Take a closer look at some of the weird things New Jersey taxes, and doesn't
---
You have questions, I get you the answers.
In my latest "Asked and Answered" column, I'm answering your questions about New Jersey's sales tax.
A lot of you have asked why certain things are taxed in New Jersey and why certain things are not.  The "why" is not always easy to ascertain.
Sometimes, like in the case of plastic products, the intent is to prompt people to make more environmentally friendly choices.
What is New Jersey's sales tax?
In general, New Jersey assesses a 6.625% sales tax on sales of most tangible personal property, specified digital products, and certain services unless specifically exempt under New Jersey law.
Are there exemptions to New Jersey's sales tax?
Yes.
Most food and drink items purchased in a food store are not subject to sales tax when sold to individual consumers.  This can change if certain items are combined into a prepared food dish or if the law considers the item to be a "candy."
Also clothing, drugs, disposable paper products (household use only), durable medical equipment and manufacturing/processing machinery and equipment are also generally exempt from sales tax, but there could be exceptions.
New Jersey puts out an itemized list for retailers that spells out what is, and what is not, taxed.
Perhaps because this is New Jersey, there are some bizarre and seemingly contradictory listings.
---
New Jersey taxes (just about) everything.  Keep scrolling to see how the state imposes taxes on some things just doesn't seem to make sense.
Bad Skin?
Acne creams and lotions are tax-exempt.
Skin cleansers and soaps are taxed.
Astringents and rubbing alcohol are exempt.
Have a baby?
Diapers and wipes are exempt.
Baby lotion is taxable.
Petroleum jelly is exempt.
Taking a bath?
Bath beads, oils, and sachets are taxed.
Your bathing cap is tax exempt
Refreshing drink?
Unsweetened iced tea is tax-exempt.
Sweetened tea is taxed.
Same for lemonade and almost all beverages sold in stores.
Marijuana
Recreational weed is taxed.
Medical weed is not.
Light a candle?
Your candle is taxed.
The lighter you use to light it, and butane gas, is tax-exempt.
Chips?
Chocolate chips are taxed because they are considered candy.
Potato chips are not because they are considered food. (Chocolate-covered potato chips, however, are considered candy and are taxed.)
Nearsighted?
Contact lenses are tax-exempt in New Jersey.
Contact lens cleaners and solutions are subject to taxation.
Throwing a party?
Paper plates and paper cups are tax-exempt.
Red Solo cups and plastic dinnerware are taxed.
Ice is tax-exempt.
The ice bucket you put it in is taxed.
Cut yourself?
Bandages are taxed.
Antibiotic creams are exempt.
Giving a gift?
A gift certificate is tax-exempt to purchase.
The box you put it in, the card, wrapping paper and bows are all taxed.
Bitten by a mosquito?
Insect bite, itch and rash relievers are tax-exempt.
Mosquito repellent is taxed.
The same, but different.
Marshmallows are taxed in New Jersey.
Marshmallow Fluff is tax-exempt.
Pumpkins?
If you carve it and display it, pumpkins are taxed.
If you eat it, it's tax-exempt.
Day at the shore?
If you get burned, sunburn relief products are not taxed.
However, sunscreen is taxed by New Jersey.
Pearly Whites
Your toothbrush and toothpaste will be taxed.
If you have a toothache, pain relievers are tax-exempt.
Starchy
Laundry starch is taxed.
Cornstarch is not.
Sports
If you want to go see a sporting event, you will be taxed.
If you want to play a sport, you won't be charged tax.
And….finally……you don't say?
Condiments (catsup, mustard, mayo) are taxed.
Condoms are not.
2023 Seaside Heights Polar Bear Plunge
Photos from the 2023 Seaside Heights Polar Bear Plunge, which raised $2.5 million for the Special Olympics New Jersey.
Eric Scott is the senior political director and anchor for New Jersey 101.5. You can reach him at eric.scott@townsquaremedia.com
Click here to contact an editor about feedback or a correction for this story.