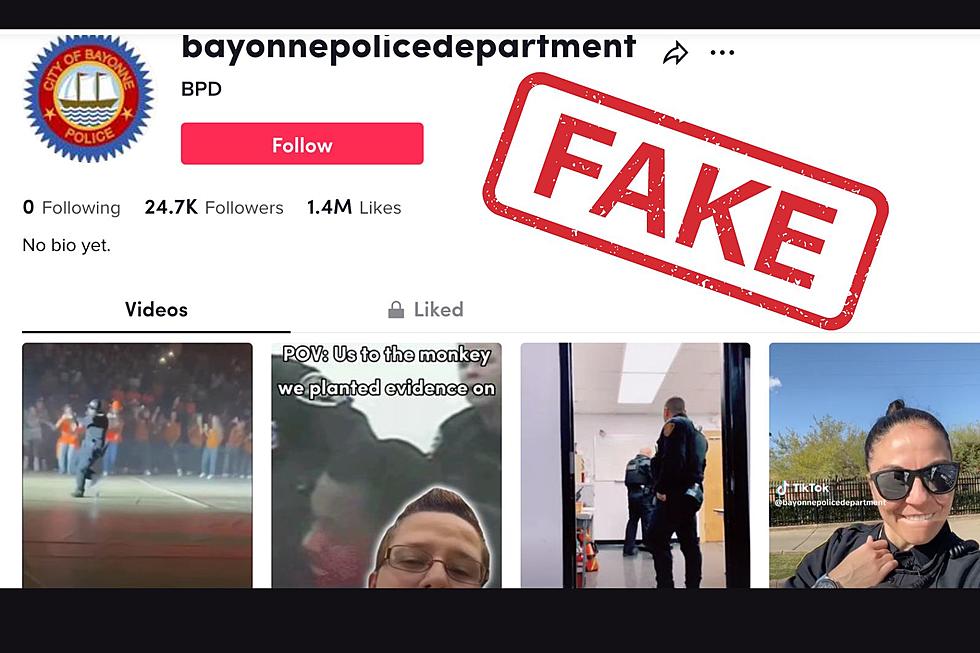 Bayonne, NJ chief upset as fake police account on TikTok goes viral
Fake Bayonne Police Tiktok account (Tiktok, Canva)
🚔 Tiktok account dubbed "Bayonne Police Department" racks up followers
🚔 The real police chief says it's a total phony
🚔 It appears the account re-dubbed existing videos to a racially offensive track
---
BAYONNE — A TikTok account that's rapidly gaining followers claiming to be the "Bayonne Police Department" is a fake, city police say.
The account had nearly 25,000 followers as of Tuesday afternoon, with at least eight videos all set to the same racially derogatory audio track.
"The Bayonne Police Department is in no way affiliated with these videos," Police Chief Robert Geisler said in a post on the department's real Facebook page.
None of the uninformed individuals in the videos were members of Bayonne's police force, he added.
"It appears an egregious song was dubbed on previously recorded TikTok videos from the Police Officers' accounts," Geisler continued.
Each video included similar hashtags, including:
#police
#policeofficer
#policehumor
#georgefloyd
#hecantbreathe
The chief also thanked "the many members of our community who took the time to notify the Bayonne Police Department of these videos' existence."
Erin Vogt is a reporter and anchor for New Jersey 101.5. You can reach her at erin.vogt@townsquaremedia.com
Click here to contact an editor about feedback or a correction for this story.
Play ball NJ: These MLB pros are from New Jersey
A fair amount of New Jersey born baseball players have made it to the majors. These pros, active to start the 2023 season, all have NJ roots.
LOOK: Food and Personal Care Shortages We Could See In 2023
Learn about the 13 potential shortages that could impact stores in 2023, from produce and meat to snacks and beverages.
Biggest NJ company layoff notices in 2022 and 2023
In some cases, workers may be offered back their jobs or transfers to different locations.
Here's a look at more than a dozen of the biggest announcements within two years.
From coast to coast: The 20 best regional fast-food chains to try
From burgers to subs and even creamy milkshakes, these tasty fast-food chains, compiled by
Stacker
, are a must-try on your next road trip.