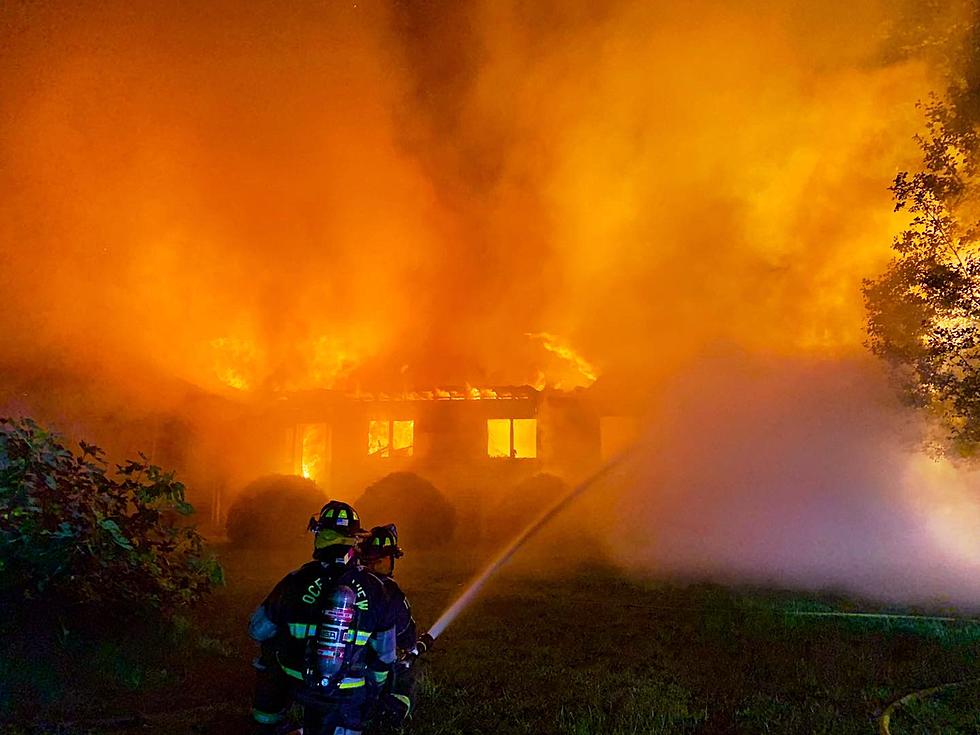 7 Fire Companies Fight Dennis Township, NJ House Fire [VIDEO]
Ocean View Volunteer Fire Company/Facebook
Seven South Jersey fire companies were called on to help fight an early Labor Day morning house fire in Ocean View, Dennis Township.
The Ocean View Fire Company, along with Dennis Fire Company, were dispatched to the 400 block of Corson's Tavern Road at about 1:30 am Monday, for a reported structure fire.
Before even reaching the home, the Ocean View Volunteer Fire Company observed the heavy fire in the distance and requested help from additional fire companies, adding the Seaville Fire Company for a tanker truck, the Sea Isle City Fire Department for a quint truck, which combines the equipment capabilities of a ladder truck and the water-pumping ability of a fire engine, and the Avalon Fire Department for a rapid intervention crew, according to a Facebook post.
Once they arrived at the blaze, firefighters confirmed all occupants had made it safely out of the home without injury and began fire suppression from the exterior due to heavy fire conditions.
After the bulk of the fire was knocked down crews were able to enter the dwelling and contain the remaining fire.
The Marmora Fire Company responded to the scene for additional manpower and water.
A total of 20 Ocean View Firefighters responded to the scene in two pumpers, two tankers, and three support vehicles.
Cape May Court House Fire Company provided coverage for Ocean View. Crews remained on the scene for several hours. The fire is currently under investigation.
Watch amazing helmet cam video footage of the firefight from Ocean View Volunteer Fire Company Deputy Chief A. Dotts' helmet cam.
Photos of Some of South Jersey Firefighters Most Memorable Fires
Photos of South Jersey firefighters fighting fires and coming to the rescue when called.
South Jersey Police Who Tragically Died in the Line of Duty
This is a tribute to South Jersey police officers who tragically have died in the line of duty.