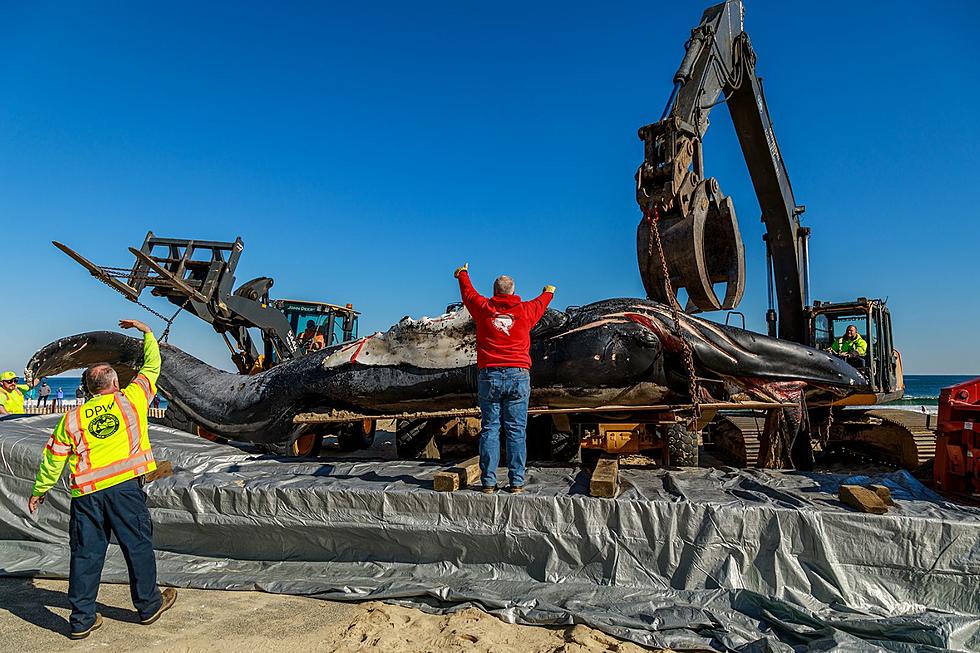 Whale washed up on Manasquan, NJ beach was struck by vessel
Monmouth County Public Works workers help in the removal of a deceased humpback whale at the Manasquan Inlet beach (Monmouth County)
🐳 An internal exam revealed evidence of a vessel strike
🐳 Tissue analysis will help determine if the vessel strike occurred before or after death.
🐳 Clean Ocean Action nicknamed the 35-foot humpback whale "Valentine"
---
MANASQUAN — The ninth whale to wash up on a New Jersey or New York beach since December was the victim of a vessel strike, according to a necropsy.
The 35-foot female humpback whale washed up on the beach at Manasquan Inlet Monday afternoon and was examined by teams from the Marine Mammal Stranding Center and Atlantic Marine Conservation Society. The exam began at the beach and concluded at the Monmouth County landfill.
Clean Ocean Action said it has named the whale "Valentine" in honor of the timing of her appearance.
NOAA Fisheries, which released the results, said the whale had no obvious signs of external trauma and her body was in good condition. The whale was documented for the first time on Jan. 7.
It was an internal exam that turned up evidence of a vessel strike.
"There is not always obvious external evidence of vessel strikes, which is why internal exams are important. The results of the tissue analysis will help us determine if the vessel strike occurred before or after death," NOAA said in a statement.
Mayor expected vessel strike
The report by NOAA made the prediction of Point Pleasant Beach Mayor Paul Kanitra that a vessel strike would be found come true.
"They're giving the end result not what the cause was. It's like you're examining an individual who was in a vehicle and died of blunt force trauma but you're not talking about the automobile accident that caused it," Kanitra said. "Here it's what is interfering with the whales' navigation ability resulting in this increased prevalence of boat strikes."
Wind energy blame
The mayor was one of a dozen Jersey Shore mayors and Rep. Chris Smith to sign a letter asking President Joe Biden to put a pause on off-shore energy development. He pushed back against the argument of wind supporters that opponents waging a disinformation campaign using the dead whales and debunked information.
"I think that's uneducated and misleading. They have a monetary stake in this and obviously, they need to convince the public that what's going on is totally normal. But if you look at the studies that have been submitted regarding harassment of marine life it's unequivocally already shown that there are going to be thousands of various marine life harassed is the term that they used by this project so they already knew that this was going to happen."
GOP state Sen. Vince Polistina also called on Gov. Phil Murphy for a 30 day moratorium on on off shore wind development Wednesday,
"It seems completely irresponsible to blindly continue the work without definitive reasons why so many whales are meeting a tragic end. No one knows whether there is a correlation between the studies and the deaths, and the only thing we get from our federal regulators is that there is allegedly no "direct" impact, seemingly wanting to ignore the indirect impacts to marine mammal behavior allowed by the Incidental Take Authorizations granted by those federal bureaucrats," Polistina said.
He added that if there was potential impact from oil and gas exploration Murphy and environmentalists would be calling for the same pause.
NOAA Fisheries said that a whale spotted floating in the ocean east of Long Beach Island in January has not been seen since.
Dan Alexander is a reporter for New Jersey 101.5. You can reach him at dan.alexander@townsquaremedia.com
Click here to contact an editor about feedback or a correction for this story.
LOOK: These are the most Instagrammed sports stadiums in the world
OLBG
analyzed Instagram hashtags & revealed the most Instagrammed sports stadiums across the world, including those here in the United States. The top 10 are listed below, based on available data from February 7, 2023.
Jersey Pizza Joints' Pizza Bowl III
NFL pros from New Jersey
There are more than 60 active pros with NJ roots.
More than 10 players who made it to the NFL conference championship games this year have NJ ties — and four active NFL quarterbacks were born in the Garden State.
Some of them may even be on your fantasy football team.