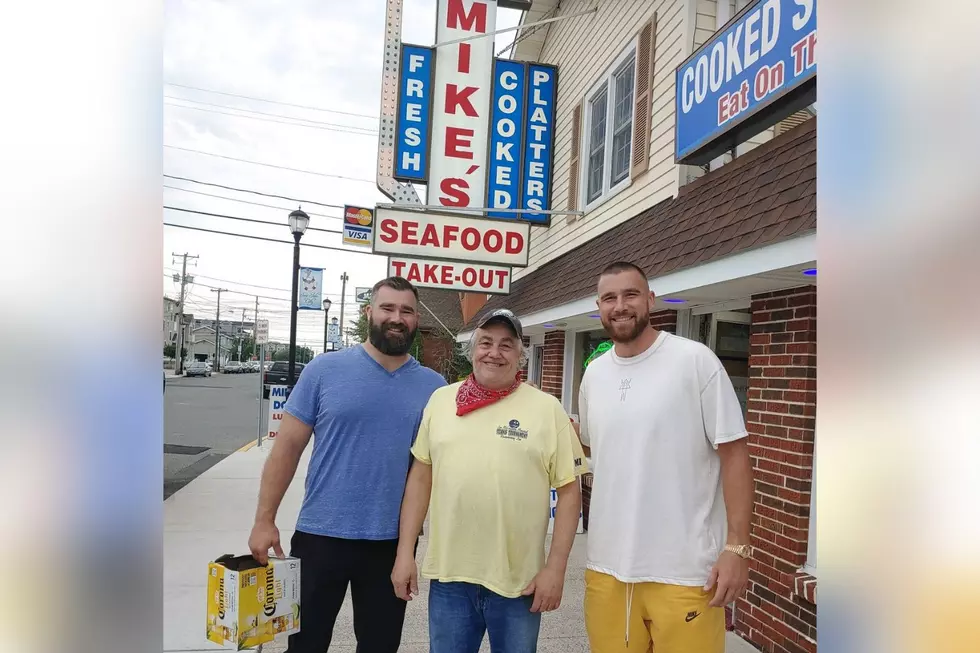 That Time the Kelce Brothers Picked Up Seafood in Sea Isle City, NJ
Mike's Seafood/Facebook
We'll call this 'The Kelce Brothers Take the Jersey Shore', lol. Check out this cool photo of them grabbing seafood in Sea Isle City over the summer.

Brothers Jason and Travis Kelce are about to face each other in Super Bowl LVII, and it's going to be a fierce matchup with only one winner.
But last summer the bros were all smiles during a visit to Sea Isle City, where they popped by Mike's Seafood along Fish Alley.
Mike's recently reposted a photo marking the occasion on their official Facebook page, and it just makes ya smile!
Sure, there's a bit of sibling rivalry between these two, how could there not be when they both play for the two best teams in the NFL, but it's all in jest. Have you caught their podcast? It's the funniest thing ever to hear the brothers go at it, especially when they rope Mama Donna into the conversation.
Jason Kelce often visits Sea Isle City during the summer season on behalf of the Eagles Autism Foundation. It's a cause close to the heart of Mike's Seafood, too, with their annual Run/Walk for Autism taking place Saturday, February 18th.
18 of the Best Wings in South Jersey
A list of the 52 best places to get buffalo wings in New Jersey includes 18 restaurants and bars right here in South Jersey.
Stunning beach house on 63rd St. in Avalon is for sale at $15.7 million
10 Jersey Shore Restaurants You Have To Try