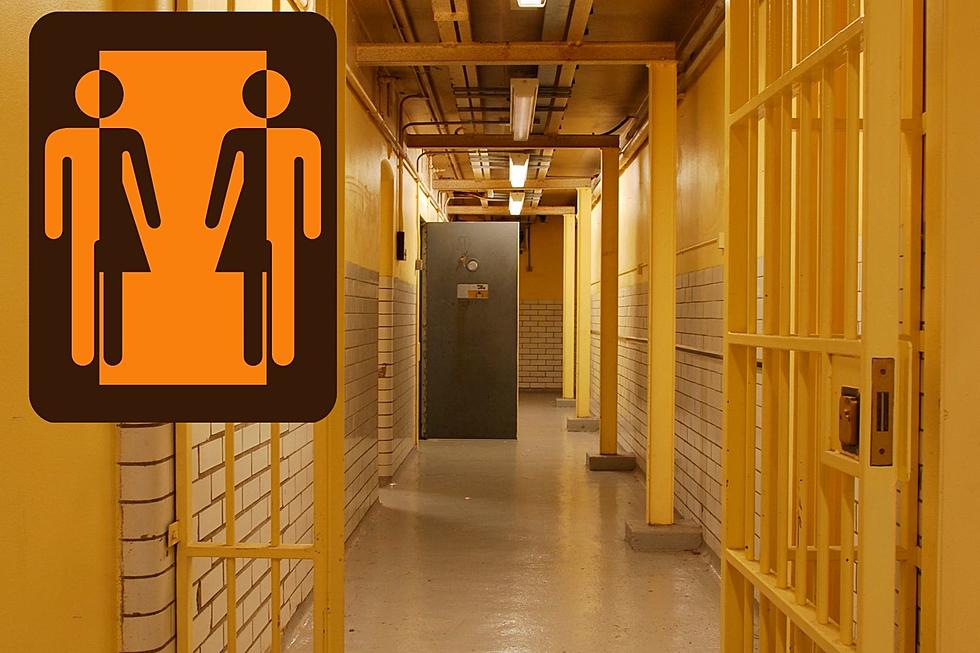 Protest: Trans inmates in NJ women's prison getting married, siring children behind bars
(Canva, Townsquare Media)
🔶 After 2 pregnancies, NJ faces protest over transgender inmates at women's prison
🔶 Edna Mahan has several transgender prisoners among its all-female population
🔶 At Trenton protest, one person slammed gender identity and said 'trans is a cult'
---
TRENTON — While awaiting its planned closure after a history of inmate abuse, the state's only all-female prison has drawn new attention from protesters against transgender inmates being housed there.
According to the New York Post, 10 inmates currently at Edna Mahan Correctional Facility are transgender females. It remained unclear Tuesday how many might have undergone gender-affirming surgery because state officials did not respond to detailed questions from New Jersey 101.5.
Demonstrators held signs outside the Statehouse on Friday, saying that women inmates who were assigned female at birth should not be forced to live in prison facilities with transgender inmates.
As previously reported, one such inmate had gotten two fellow prisoners pregnant before being transferred last summer.
Both sexual encounters that ended in pregnancy were consensual, corrections officials say.
Nationally, there are roughly 5,000 transgender inmates estimated to be within state prisons, according to an NBC news report cited by a Survey of Prison Inmates analysis released in 2020.
🔶 Protest of trans inmates at female prison includes letters from other NJ inmates
The Get Men Out event in Trenton featured activists reading letters from a other female inmates at Edna Mahan Correctional Facility.
Event participants Brittany Ortiz and Jennifer Thomas said they were advocating "for the dignity of women incarcerated in sex-segregated prisons," the Post reported.
"Women and Men that merely state reality are being silenced. We are banned from social media, de-platformed and our stories are suppressed," Thomas wrote in a fundraising campaign on the religious crowdfunding platform GiveSendGo.
One of the inmate letters read at the event was written by Dawn Jackson, who is serving a 30-year murder sentence for stabbing a relative to death after years of sexual abuse. Jackson said it is traumatic to be around inmates, wondering if she is among sex offenders.
In another letter, inmate Kokila Hiatt, said "I personally have been threatened with violence and multiple false allegations for speaking up."
Hiatt, who was convicted under the name of Jessica Kisby, has been serving a 30-year sentence for murder, carjacking and aggravated arson.
The Friday protest was live-streamed on Youtube, where the video remains posted.
At times, counter-protesters can be heard in the background with a megaphone as women spoke and read from the inmates' letters — and there is sporadic profanity.
🔶 Specific transgender inmates, convicted of violent crimes, named at protest
The protesters specifically mentioned a few inmates who have spent time at Edna Mahan — including Demi Minor, the inmate who impregnated two women prisoners.
One pregnancy was reportedly terminated, according to the Post, while the other inmate gave birth to a baby girl, according to a personal blog by Minor.
Minor has since been transferred to the Garden State Youth prison facility in Burlington County.
She has been serving a 30-year sentence since pleading guilty in 2011 at the age of 16 to aggravated manslaughter, for stabbing her foster father to death.
🔶 Trans inmate says she is 'Dealing with Trauma and Fighting for My Life'
In a November blog entry called "Dealing with Trauma and Fighting for My Life," Minor said that federal prison regulations aimed at protecting inmates against sexual abuse can be weaponized by some filing false reports.
"I doubt anyone will understand, the environment within a female prison especially from a trans woman's perspective, but the truth is 85% of inmates are in relationships, many of them are known to administration, and others are not," Minor wrote.
Another person singled out in coverage of the protest against trans inmates in female prisons was Dejshontaye Would. She has been serving a 25-year sentence for aggravated manslaughter. Would has since been transferred to Northern State Prison, according to state prison records.
Trans inmate files lawsuit to keep other trans inmates out of female prison
Adding another layer to an already complex issue, one transgender inmate sued the state in an attempt to keep other transgender inmates out of Edna Mahan.
Michelle Even-charat — also known as Michelle Angelina — has been serving a 50-year sentence for the brutal murder of a female sex worker.
Those crimes were committed when the inmate was 19 — years before the now 40-year-old Even-charat's gender transition.
Michelle Even-charat also received an additional five-year sentence during incarceration due to violent threats made against prison administrators before her gender transition and subsequent prison transfer.
Last year, she married a fellow inmate while in prison — reportedly the first such wedding ceremony at Edna Mahan.
Her wife, Jennifer Pasquarello, was arrested in 2015 and later convicted of aggravated sexual assault against a 14-year-old male student she met as a teacher's aide in Gloucester County.
Pasquarello has also changed her last name to Even-charat.
Sometime before their marriage, Angelina and Pasquarello last year filed a federal lawsuit saying that the admission of trans inmates who have not undergone gender affirming surgery was a violation of their individual civil rights.
In the suit — which was ultimately dismissed — Angelina self-identified as a transgender female who has undergone gender-affirming surgery.
Based on the inmate's lengthy prison term, any surgery most likely took place during incarceration.
A request for confirmation from the Department of Corrections on Monday was not immediately answered.
🔶 Protester calls gender identity 'mystical, intangible belief,' says trans 'is a cult'
During Friday's protest in Trenton, one of the participants railed against the very idea of gender identity "entirely independent of biological reality."
"A woman is an adult human female but to this day — for the amount that I must speak out against gender identity — I still don't really know what the hell that means," Brittany Ortiz says in the video, as posted to Youtube by the channel, Known Heretic.
She continues, saying it's a "mystical intangible belief."
"The idea that each person has some internal essence that identifies itself as either man, or woman or demi-girl or demi-boy or boy-girl-unicorn or horsey-cat meow mix," Ortiz says, adding there is no way to measure the sincerity of gender identity.

 

"You just need to take their word for it, it's based on faith — it is a religious belief. Trans, therefore, is a cult."
🔶 Amid indictment of 14 prison guards, Edna Mahan is slated for permanent closure
In September 2022, a state grand jury chose to indict 14 corrections officers on charges stemming from a violent overnight incident at the women's prison.
Inmates were forcibly removed from cells and some were beaten in the January 2021 encounter, leaving two victims severely hurt.
The corrections officers face charges that include conspiracy, official misconduct, tampering with public records and aggravated assault.
Also in September, state officials announced they would hire a "gender specialist" to support transgender inmates.
In that fall presentation on reforms at Edna Mahan, it was announced that all correctional officers have now been outfitted with body cameras and efforts were being expanded to recruit more female guards.
All those efforts have come amid the larger response announced by Gov. Phil Murphy in June 2021 that he intended to close the scandal-plagued women's prison.
"Edna Mahan Correctional Facility for Women has a long history of abusive incidents predating our Administration, and we must now commit ourselves to completely breaking this pattern of misconduct to better serve incarcerated women entrusted to the State's care," Murphy said in a statement at the time.
The state budget proposed by Murphy earlier this year earmarked $90 million to build a replacement facility for Edna Mahan, as reported by NJ.com.
The same NJ.com report said that while timeline has been given for the prison's ultimate shutdown,  a transitionary period was already underway in which some inmates were moved to the William H. Fauver Youth Correctional Facility, also in Hunterdon County.
🔶 Free Speech for Women has also hosted public events in Philly, NYC
Friday's demonstration was promoted by the organizer, Free Speech for Women, on Eventbrite.
"A Free Speech For Women Event, Concerned citizens are invited to join and/or support #GetMenOut in raising our voices for "Justice Speaks: Uphold Article 14 of the Geneva Convention," and #GetMenOut of America's Women's Prisons and Detention Facilities."
The same organizer had promoted a May 2022 event in New York City, which met at Trump Tower, called NYC 'Stop the Indoctrination.'
It was detailed as "a public engagement awareness gathering, explaining how the #genderindustry is grooming and indoctrinating the children (K-12) in the NYC public schools."
A Philly Free Speech Event promoted in November, with the online description, "This is a free speech event where both men and women are invited to speak."
Erin Vogt is a reporter and anchor for New Jersey 101.5. You can reach her at erin.vogt@townsquaremedia.com
Click here to contact an editor about feedback or a correction for this story.
Weird things NJ taxes - and some they don't
In general, New Jersey assesses a 6.625% Sales Tax on sales of most tangible personal property, specified digital products, and certain services unless specifically exempt under New Jersey law.
However, the way the sales tax is applied in New Jersey sometimes just doesn't make sense.
New Jersey puts out an itemized list for retailers that spells out what is, and what is not, taxed.
Perhaps because this is New Jersey, there are some bizarre and seemingly contradictory listings.
LOOK: The 25 least expensive states to live in
LOOK: Baby boomer baby names that have gone out of style
Using info from the Social Security Administration's baby name database,
Stacker
compiled a list of baby boomer baby names that have declined in popularity.
The 99 top paying jobs in New Jersey
How much do you make? These are the occupations in New Jersey with the highest median annual compensation. Source: Federal Bureau of Labor Statistics, 2022
KEEP READING: Scroll to see what the big headlines were the year you were born
Here's a
look at the headlines
that captured the moment, spread the word, and helped shape public opinion over the last 100 years.