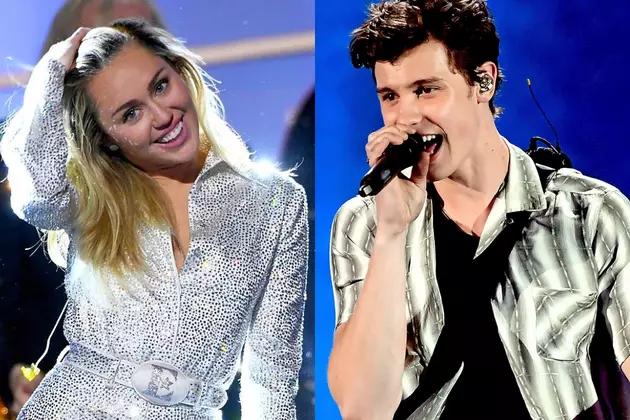 Is a Miley Cyrus and Shawn Mendes Collaboration Coming This Year?
Getty Images
Last month Miley Cyrus confirmed in an interview that she's planning to drop her next album sometime this year. Since then, the rumors have already started to swirl about the project.
The latest rumor buzzing among Miley fans is that singer-songwriter Shawn Mendes might appear on a track with Cyrus. As is standard procedure these days, a Miley Instagram fan account posted the rumor with a split image of the two music stars.
Then, the unexpected happened.
Miley herself not only liked the post, but commented! Cyrus left a simple heart emoji comment on the post, which sent fans into a tizzy. Now, of course, fans are wondering if this is Miley's way of confirming the rumor about her upcoming project.
If we think about it, it's not impossible to imagine Miley and Shawn crooning on a track together. In fact, thanks to this rumor, we now want to hear what it would sound like, so Miley's heart comment better mean something.
The last time Miley's upcoming project made headlines was after she revealed she had reunited with producer Mike WiLL Made-It. Fans, critics, and the media ran with the news, wondering if Miley's next album would be influenced by the same hip-hop sound she experimented with on her 2013 album Bangerz, which Mike WiLL worked heavily on.
Miley's next album hasn't even been officially announced yet, but given how highly anticipated it is, we can probably expect many more rumors like this in the coming months.
Meanwhile, Miley's hit collab with Mark Ronson, "Nothing Breaks Like a Heart" is still sitting pretty in the top 20 on iTunes.
20 Things You Didn't Know About Miley Cyrus