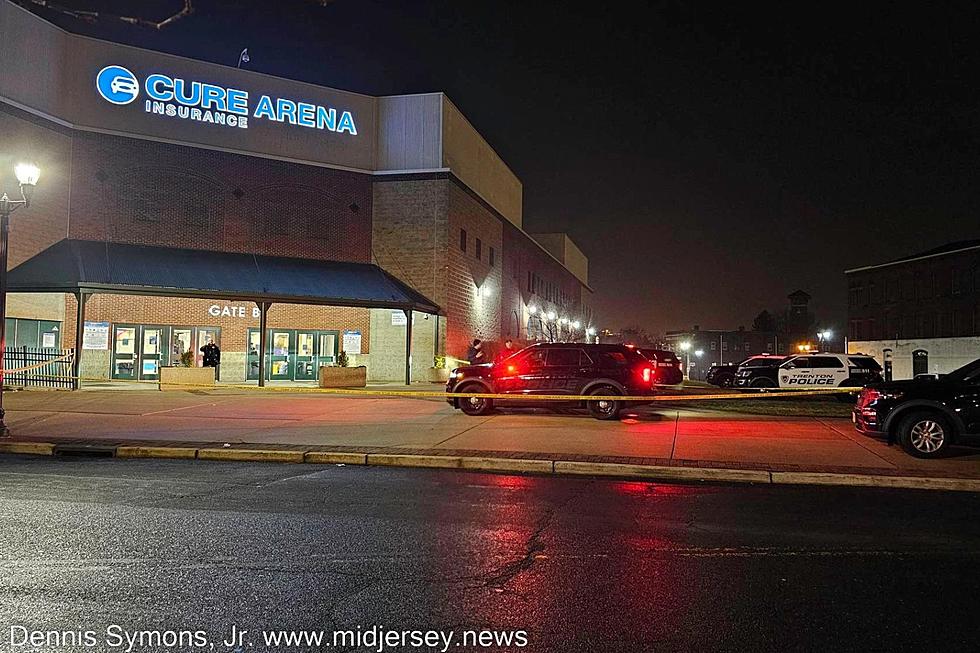 Man fatally stabbed at Trenton, NJ high school basketball tournament
Police outside the Cure Insurance Arena in Trenton after a fatal stabbing 2/16/23 (Dennis Symons, MidJersey,news)
🔴 Mercer County Prosecutor Angelo Onofri said Khalil Glanton, 22, of Trenton was stabbed multiple times
🔴 Glanton was taken to Capital Health Regional Medical Center where he died
🔴 The stabbing took place in the concourse of the Cure Insurance Arena during the Mercer County Tournament Boys Championship
---
TRENTON – One person was fatally stabbed multiple times while in the concourse at the Cure Insurance Arena during the Mercer County Tournament Boys Basketball Championship Thursday night.
Mercer County Prosecutor Angelo Onofri said Khalil Glanton, 23, of Trenton was stabbed multiple times around 8:30 p.m. as the game between Trenton Central and Notre Dame was ending. Glanton was taken to Capital Health Regional Medical Center in Trenton where he was pronounced dead at 9:05 p.m.
No arrests have been made. Onofri did not disclose a motive for the stabbing which is considered a homicide.
The Trentonian reported video of a fight in the concourse between "dozens" was posted online that included someone lying on the ground.
Trenton won the championship topping Notre Dame 64-49.
Onofri asked anyone with information about the stabbing to contact the Mercer County Homicide Task Force at 609-989-6406.
Crisis counselors, police at Trenton Central
Trenton School Superintendent James Earle said Glanton was a member of the Trenton Central Class of 2019.
"At this time, we are not aware of any current students who may have been directly involved but have contacted those who may be connected to ensure they are not on campus Friday," Earle said in a statement.
The superintendent said police presence has been increased at Trenton Central along with the district crisis team for staff and students who witnessed the stabbing or saw video online.
The past two weeks have been traumatic for our TPS family. Students and staff have experienced tragic events happening inside schools, within our community, and watched them unfold across the country," Earle said. "As a district, our work continues to be critical to changing the circumstances of our young people. Students need access to better options for resolving conflict."
A night of violence
A fight on the court between members of the Camden and Eastside High basketball teams at Cherry Hill East during the championship game of the Camden County Tournament final Thursday night led to the game's suspension, according to the Cherry Hill Courier Post.
A referee whistled a foul in the second quarter which upset some members of the Camden Panthers who chased after Eastside players, the Courier Post reported.
Video shows spectators entering the court and joining the fight. Camden Schools Senior Communications Manager Sheena Year  said no one was injured during the fight.
The NJSIAA issued a statement about the stabbing and the fight.
"The NJSIAA is monitoring the situations related to yesterday's basketball games in Camden and Mercer County, while awaiting additional information from authorities and all involved schools. Certainly, our hearts go out to the family and friends of the stabbing victim in Mercer County," the organization said in a statement.
Trenton Mayor Reed Gusciora in a statement Friday afternoon expressed his condolences and called it a "senseless murder."
"At a time when we should be celebrating the achievements of our basketball team, we are instead confronted with acts by individuals whose main goal it seems was to commit violence. We cannot allow a tragedy like this to be the norm in our city," the mayor said.
Gusciora wants the county, which owns the arena, to investigate security breaches and ensure that everyone who operates a metal detector there is properly trained. Additional security will be present for the first round of the NJSIAA tournament Tuesday night at Trenton Central.
Photos courtesy MidJersey.news
Dan Alexander is a reporter for New Jersey 101.5. You can reach him at dan.alexander@townsquaremedia.com
Click here to contact an editor about feedback or a correction for this story.
NFL pros from New Jersey
There are more than 60 active pros with NJ roots.
More than 10 players who made it to the NFL conference championship games this year have NJ ties — and four active NFL quarterbacks were born in the Garden State.
Some of them may even be on your fantasy football team.
LOOK: These are the most Instagrammed sports stadiums in the world
OLBG
analyzed Instagram hashtags & revealed the most Instagrammed sports stadiums across the world, including those here in the United States. The top 10 are listed below, based on available data from February 7, 2023.
NJ school holidays with the biggest buzz
Just which days NJ schools have off remains a reflection of its community.
Some New Jersey towns now have populations that celebrate religious holidays not previously taken as a district-wide day, such as Diwali or Eid.
Other days off are not religious in nature, but are still stirring up controversy or buzz around the state. The following have been making the most news.