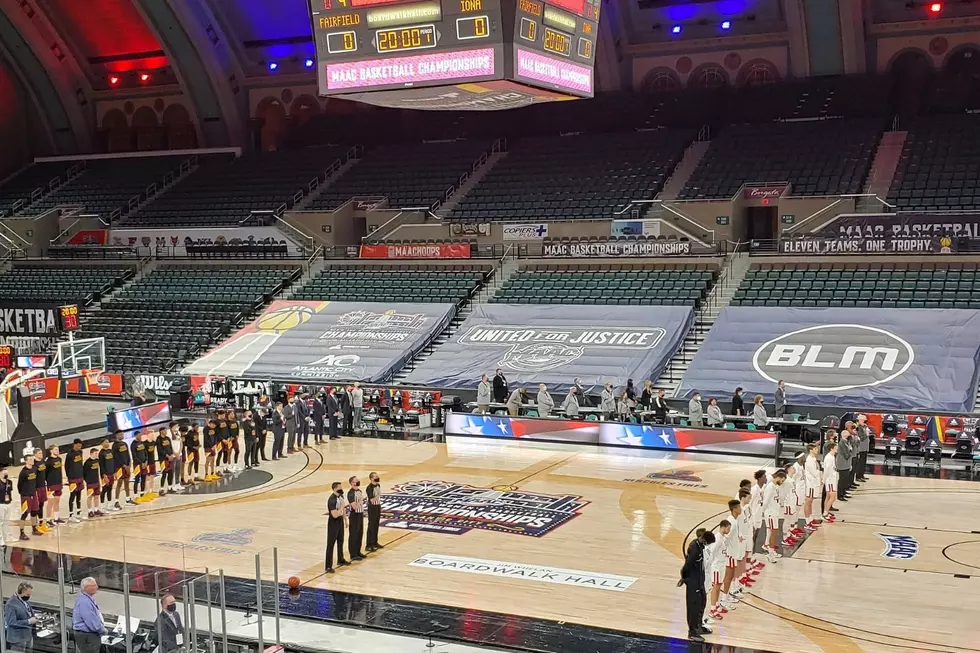 MAAC Basketball Tournament Hopeful to Return to Atlantic City, NJ
Photo by Josh Hennig/Townsquare Media at Boardwalk Hall in Atlantic City
The Metro Atlantic Athletic Conference men and women's basketball tournament has called Atlantic City's Boardwalk Hall home for the past two seasons, but you would hardly know it.
The 2020 MAAC tournament had to be shut down due to COVID-19 and the 2021 version was limited to just friends and families in the arena.
In March of 2022, the final year of a three-year deal, the conference is hopeful to have fans back inside the hall from March 8-12 and if MAAC commissioner Rich Ensor has his way, the league will keep the tournament in Boardwalk Hall. The commissioner endorsed a three-year contract extension to keep the Tournament in Atlantic City on Wednesday.
"All signs are positive," Ensor said Wednesday on a media conference call. "I think we have a great working relationship with the Boardwalk Hall staff, with the Meet AC (Atlantic City Convention Center) people."
A decision could be made during their meeting on Dec. 14.
In a joint statement, the Casino Reinvestment Development Authority, which owns Boardwalk Hall, and Spectra Venue Management, which manages Boardwalk Hall, confirmed they're in conversations with the MAAC regarding a contract extension.
"We look forward to hosting the MAAC Basketball Championship in 2022 and working with them to finalize an agreement that will fill seats in Jim Whelan Boardwalk Hall and enable both players and attendees to thoroughly enjoy all the amenities of the venue and Atlantic City in 2022 and beyond," the statement read.
New Jersey is home to three MAAC's schools — Monmouth, Rider, and St. Peter's.
2021 MAAC TOURNAMENT AT BOARDWALK HALL IN ATLANTIC CITY