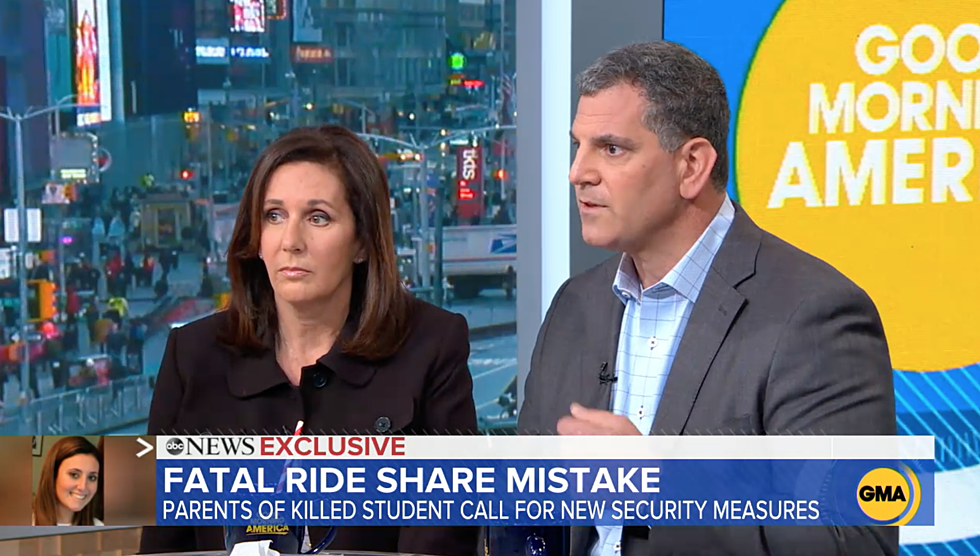 Josephson Family Speaks Out About Ride Sharing Safety on 'Good Morning America'
Good Morning America via ABC
Robbinsville's Marci and Seymour Josephson spoke out about proposed changes to improve the safety of ride-sharing apps (such as Uber and Lyft) earlier today (April 15) on ABC's 'Good Morning America.'
The brave parents made their appearance on national TV less than three weeks after their daughter, Samantha Josephson, was brutally murdered.
Samantha was a senior at the college, and she planned on attending law school in Philadelphia next year. Less than 24 hours later, Samantha's body was discovered in a South Carolina field. A 24-year-old man, Nataniel Rowland, has been charged with her murder. A motive is not immediately clear.
During Monday's appearance on the TV program, the Josephson's spoke about the need for new safety measures on these popular apps.
South Carolina lawmakers have already introduced a bill in Samantha's memory that would require drivers to use illuminated signs in their front window to show the ride-sharing company's logo.
It's a good start, but that's not going far enough, Seymour said during the interview.
"We grow up teaching our kids not to get into cars with strangers. And what do we do? We get into cars with strangers," he said on national TV today. 
The proposals he suggested during the television appearance included: requiring vehicles to have front license plates, and possibly adding QR codes to the vehicles for riders to match themselves up with before entering the car.
The couple will attend the University of South Carolina's commencement ceremony next month where their daughter will posthumously receive her degree.
"It will be the hardest thing for us to go, but we want to go," Marci said during this morning's interview.