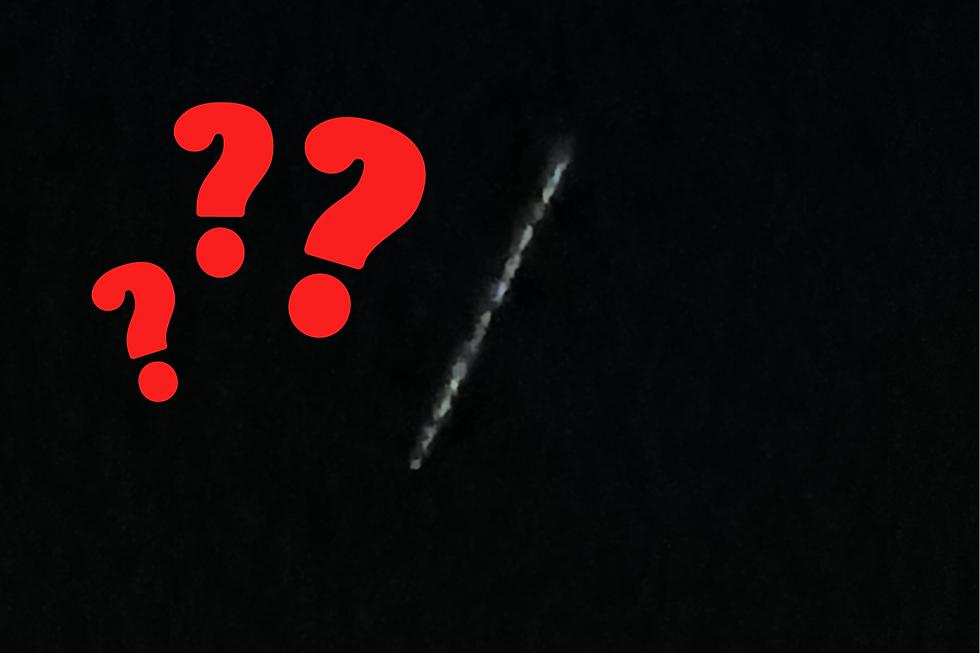 More strange lights seen streaking across New Jersey's night sky
Strange lights seen over NJ on 9/20/23 (Submitted/Canva)
🌠 New Jersey has seen weird, bright lights for the second time this week
🌠 The mysterious objects in a line look like a train of light
🌠 Send us your videos and photos!
---
For the second time in less than a week, people in New Jersey are wondering what they saw flying through dark night skies.
The stream of lights was reported throughout the state around 8:35 p.m. Wednesday evening.
But they weren't alien ships.
Instead, the lights were nearly two dozen v2 Mini Starlink satellites on a Falcon 9 rocket that had launched late Tuesday night. The 22 satellites were part of Group 6-17.
One woman said to New Jersey 101.5 that she thought the lights were UFOs at first.
"I'm in Jackson and last night we were outside and up in the sky was a bright stream of lights we had no idea what the heck it was. Found out later it was Starlink. Pretty wild for sure! It was there one minute, and it moved and disappeared," she said.
This is the second time in less than a week that Starlink satellites have been spotted in New Jersey's skies. Satellites launched from Florida on Friday soared overhead in New Jersey on Saturday night.
People on social media said the lights were "other-worldly."
The satellites, owned by billionaire Elon Musk, provide internet to remote areas of the world that do not have internet access. There are thousands of them orbiting the earth in low earth orbit.
LOOK: 31 breathtaking images from NASA's public library
In 2017, NASA opened the digital doors to its
image and video library
website, allowing the public to access more than 140,000 images, videos, and audio files. The collection provides unprecedented views of space.
Stacker
reviewed the collection to select 31 of the most breathtaking images, including the first from the James Webb Space Telescope. Keep reading to see these stunning images, curated with further information about the captured scenes.
Report a correction 👈 | 👉 Contact our newsroom
Windfarm projects proposed for NJ coast — and what they might look like
These are the wind energy projects approved for and planned for the ocean off the coasts of New Jersey and New York. While the projects have the support of officials who say they will stimulate the local economy and create renewable energy to power millions of homes, many coastal residents have raised concerns about how the projects will impact tourism and the environment.
The gallery includes competing photosimulations — those on file with the federal
Bureau of Ocean Energy Management
and those recently commissioned by a group opposed to the wind farm development.