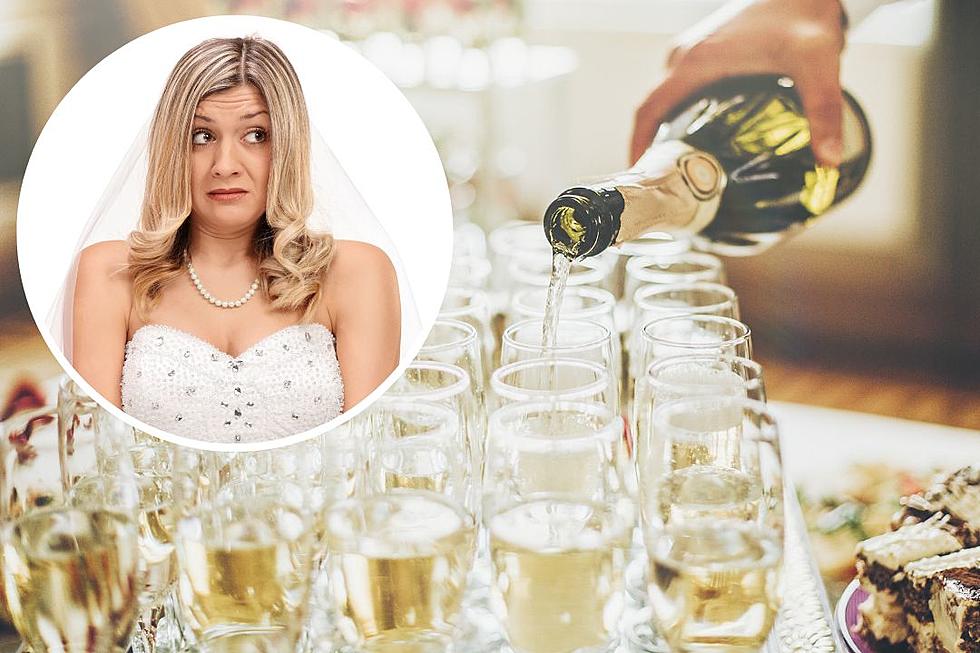 Bride Exposed for Using Fake Wedding Cash Bar to Fund Lavish Italian Honeymoon
ThinkStock via Getty Images
A woman on Reddit is furious after discovering her friend tricked her wedding guests into paying for what was otherwise a free open bar to secretly fund her expensive honeymoon.
"When we were planning her wedding with her, she kept mentioning how she was on a budget. Thankfully she has connections and was able to put together an amazing dream wedding within her budget," the woman wrote about the bride, adding that her friend's wedding had about 200 guests and a reception that lasted four hours.
"Her venue was a gift from her uncle who owns a wedding venue in New England. Her catering was gifted to her from a friend who owns an amazing restaurant. Her flowers were a gift from her aunt who is a florist. Their rings were heavily discounted from a friend who works for a jewelry company and let her use their discount, so they paid cost," she explained, adding that even the DJ and photographer were free.
The bride's largest expenses were "her dress and their rings."
"At the wedding itself, there was a cash bar. The bride and groom aren't big drinkers, so I can totally get why they wouldn't want to fund anyone else's total buzz on their dime, especially when they were trying so hard to save for their honeymoon," the woman continued.
READ MORE: Bride-to-Be Demands Wedding Guests Pay for Unlimited Bar
After the wedding, the newlyweds jetted off to Italy for a lavish month-long honeymoon. A few months later, the woman met up with her friend for dinner, which is where the bride dropped "a bomb" on her.
Her friend admitted that a family member who owns a liquor store had given them all the alcohol for their wedding for free, and that she only had to pay for a bartender.
"She asked one of the event bartenders at her uncle's venue if they wanted to make some extra cash. She offered them 20 an hour plus tips and then told all of her guests that the bar was cash, and they used that money towards their honeymoon fund," the woman detailed, adding, "I was absolutely stunned. Actually I was pissed."
The woman estimated she spent roughly "$100 on four or five drinks plus tips," and believes her friend "made roughly $20,000 on her wedding."
"That doesn't include the gifts people gave her! I personally gave her a $200 check. I realize these numbers are speculation, but that's all I have to go on since she didn't give me an actual amount. She did say that the bar money covered a lot of the honeymoon," she continued, adding that the admission made her "see red."
"I got up from the table and told her that since she made so much money off of me, she could cover my dinner," the woman shared, revealing that she immediately "texted the bridal group party chat" and spilled the beans.
"The chat blew up. I wasn't the only one that was pissed," she concluded.
READ MORE: Reddit Slams 'Entitled' Bride for 'Expecting' Monetary Gifts
Users in the comments section sided with the furious woman, with many slamming the bride for "manipulating" her friends and family.
"I'm of the opinion that if you didn't want me to tell people about your actions you probably shouldn't have done it in the first place. Her embarrassment is her own fault, not yours," one person wrote.
"This 'friend' of yours is pretty much manipulating everybody at the wedding into paying for her honeymoon (when many of you already spent pretty big sums of money on gifts for the scum), quite selfishly," another commented.
"Oh I would have bugled that news far and wide. It's one thing to be budget conscious, it's another to steal from your friends and family. Call it what you want, I call it theft. I'm guessing their social calendar just opened up. A lot. Forever. I wouldn't be their friend, that's for sure," someone else weighed in.
Celebrity Friendships That Imploded