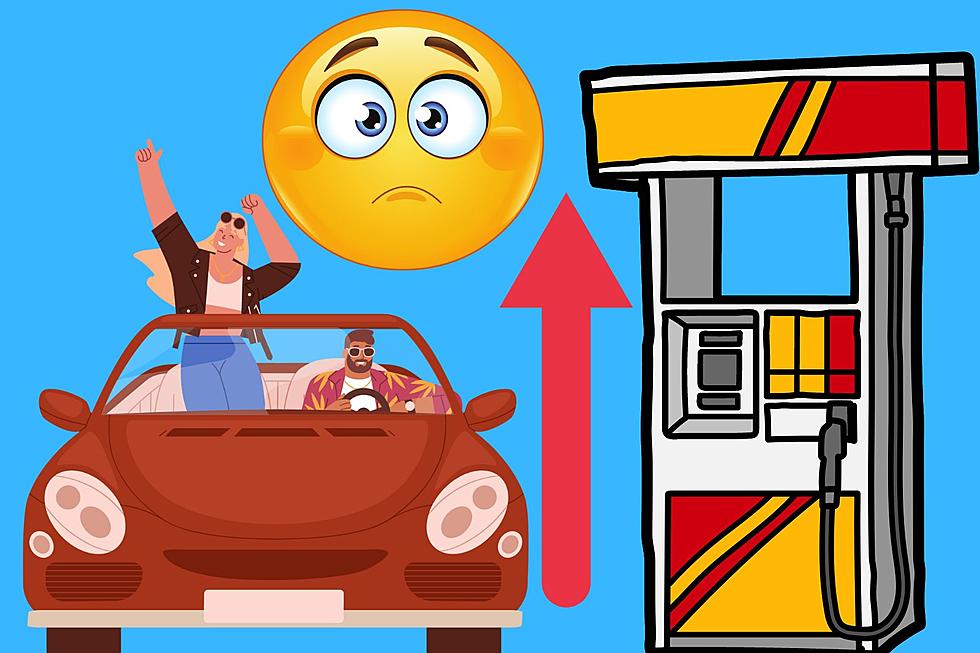 Gas prices surge in NJ ahead of Spring Break – No end in sight
Canva/Townsquare Media illustration
😒 Gas prices are spiking ahead of Spring break in NJ
💲 Increases are likely for weeks
😡 "Summer Blend" gas is adding to the cost
---
Gasoline prices are surging as we head into Easter weekend and Spring break.
The surprise announcement by OPEC that they were cutting oil production by more than a million barrels per day sent oil prices skyrocketing. The cost of gasoline quickly followed.
On Friday in New Jersey, the average price for a gallon of regular gasoline was $3.36, according to AAA. That's a three-cent a gallon increase from the day before.
Pump prices in New Jersey have increased 11-cents a gallon in the last week.
Analyst Patrick De Haan from GasBuddy.com says prices are at "highest level since Thanksgiving" and likely to keep climbing for the next couple of weeks, at least.
De Hann predicts the national average for gasoline will top out around $3-65 per gallon.
In New Jersey, we should peak at around $3.50.
The good news is that oil prices have stabilized after the initial shock to the market from the production cutback.
"The oil market has had a few days to digest the OPEC news and speculate about the reason. This has led to the price of oil stabilizing for now," said Andrew Gross, AAA spokesperson, "but the cost of oil accounts for more than 50% of what we pay at the pump, so drivers may not catch a break at the pump any time soon."
There are other factors that could keep pushing New Jersey's prices higher.
Demand for gasoline is rising as people take advantage of Spring break to travel.
The Energy Information Administration (EIA) says gas demand has increased slightly, while at the same time gasoline supply decreased substantially.
That increased demand amid tighter supply is working to push pump prices higher.
New Jersey is also switching over to a more expensive Summer blend of gasoline. That transition has to be completed by next month, and typically results in a rise of up to 15-cents per gallon.
Why do we switch to "summer gas" and why is it so expensive?
Click HERE for my 'Asked and Answered' column explaining the how and why.
Despite the current increases, gasoline is much cheaper than a year ago.
Last year at this time, gas prices were increases a nickel or more on a daily basis as we headed for an all-time record of $5.05 per gallon.
Analysts do not expect a return to those levels.
Eric Scott is the senior political director and anchor for New Jersey 101.5. You can reach him at eric.scott@townsquaremedia.com
Click here to contact an editor about feedback or a correction for this story.
Up or down? Average property tax changes in NJ in 2022
Below are the average property tax bills for every municipality in New Jersey last year.
The towns are listed from the biggest cut in the average bill to the highest increase. On the county maps, the deeper red color means a higher increase above 2% whereas the darker green signifies a smaller increase or a reduction.
Each listing also shows how the average tax bill is split among the county, school and municipal governments.
How much your school district gets under Murphy's proposed 2024 budget
Gov. Phil Murphy's porposed 2024 budget includes $1 billion in new spending for school funding including pre-K funding, pension and benefits, and an additional $832 million in K-12 aid, which is listed below by county and district.
Weird things NJ taxes - and some they don't
In general, New Jersey assesses a 6.625% Sales Tax on sales of most tangible personal property, specified digital products, and certain services unless specifically exempt under New Jersey law.
However, the way the sales tax is applied in New Jersey sometimes just doesn't make sense.
New Jersey puts out an itemized list for retailers that spells out what is, and what is not, taxed.
Perhaps because this is New Jersey, there are some bizarre and seemingly contradictory listings.