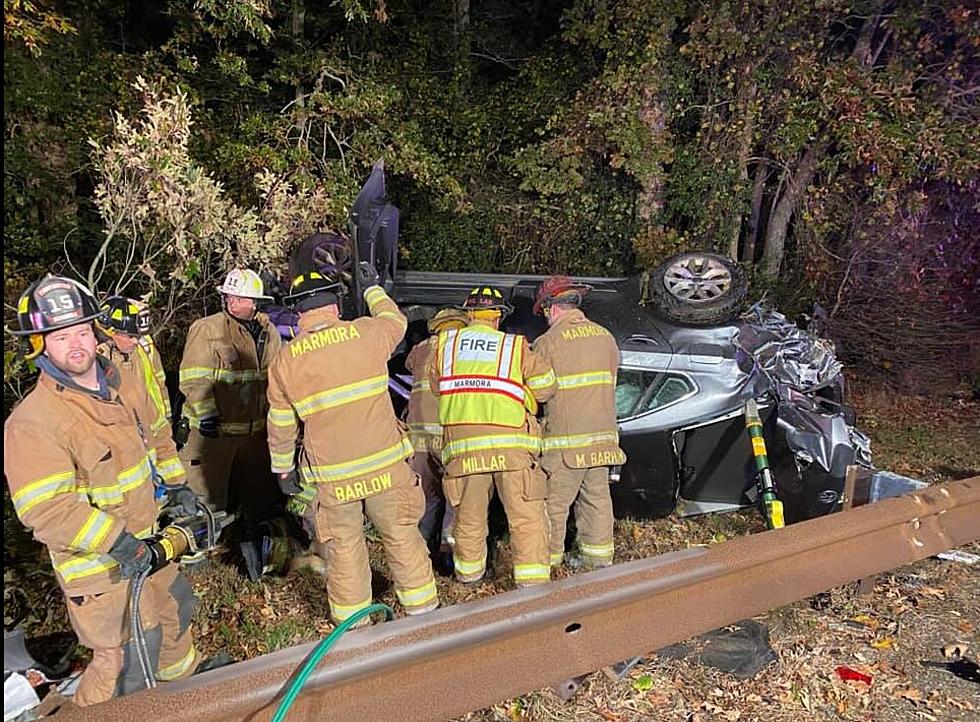 Firefighters Use Jaws of Life to Pull Driver From GSP Crash
Marmora Vol. Fire Co./Facebook
Firefighters from the Marmora Volunteer Fire Company were called to the scene of a rollover crash on the Garden State Parkway Sunday morning at about 5 am. See photos of the Firefighters rescue operation.
The Marmora Volunteer Fire Company along with the Upper Township Division of EMS and AtlantiCare paramedics were dispatched early Sunday to a motor vehicle crash on the Garden State Parkway in the northbound median near milepost 26, according to a Facebook post by the Marmora Vol Fire Co.
The firefighters found one vehicle flipped over the guardrail with one person trapped inside. Firefighters worked to stabilize the vehicle and began the extrication process to gain access for EMS.
After EMS gained access firefighters removed the roof of the vehicle using the jaws of life and various hand and battery-operated tools to complete the extrication process.
A helicopter was requested to fly the patient to a trauma center.
Seaville Fire and Rescue handled the landing zone. All units were cleared about 6 am with no injuries to first responders. The New Jersey State Police are investigating the cause of the accident.
There was no information given at this time about the identity or the condition of the driver involved in the crash.
Here is a gallery of photos taken by the Marmora Volunteer Fire Company during their rescue operation of the trapped driver.

Marmora Firefighters Use Jaws of Life to Pull Driver From GSP Crash
Photos of Some of South Jersey Firefighters Most Memorable Fires
Photos of South Jersey firefighters fighting fires and coming to the rescue when called.
50 Awesome New Jersey Kids Who Are Absolutely Adoptable
Here are 50 awesome New Jersey kids who are absolutely adaptable!