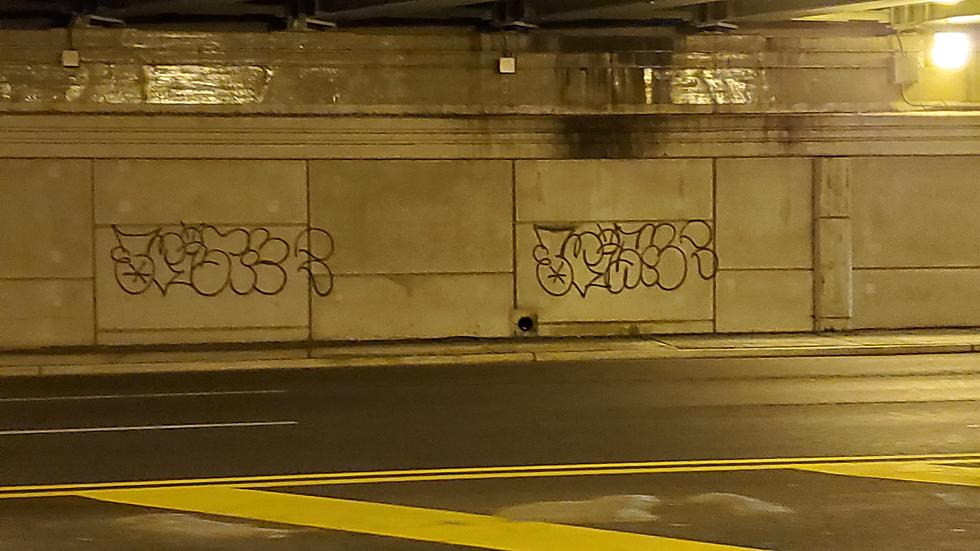 Egg Harbor Township Blight: Graffiti on Parkway Underpass, Old Movie Theater
Graffiti on the Tilton Road underpass at the Garden State Parkway in Egg Harbor Township - Photo: Chris Coleman
Somebody felt the need to not only trash the back of the old Towne 16 Theater with graffiti but also the Garden State Parkway underpass on Tilton Road in Egg Harbor Township.
Within the past few days, two areas of EHT right around the old Shore Mall were tagged with a lot of spray paint.
First of all, 99.999% of people see this as garbage 'cause no one knows what the graffiti represents other than blight and making the area look bad.
Secondly, really? This is how you express yourself? By trashing your own town (assuming you live here and are a productive member of society)?
Now, chances are, you'll never see the back of the old movie theater...
...but if you're on Tilton Road -- one of the busier roads in our area -- you will see the Parkway mess.
Now, I could sit here and complain and complain, but how about this instead: this seems like it could be an excellent opportunity to showcase efficiency in government (I'm talking about the Parkway graffiti here, not the movie theater as that is private property). It's a Parkway underpass that I am assuming is owned and maintained by the New Jersey Turnpike Authority, along Tilton Road (a county highway), in Egg Harbor Township. How quickly can this be painted over and removed? This seems like a minor problem that some elected officials should be able to take care of rather quickly by making a phone call.
The clock starts now...
The Worst Intersections in Atlantic County
Local Residents Names These Intersections as the Worst
17 Things You Likely Don't Know About the Garden State Parkway
You probably drive on the Garden State Parkway all of the time, but how much do you know about one of the busiest roads in New Jersey?