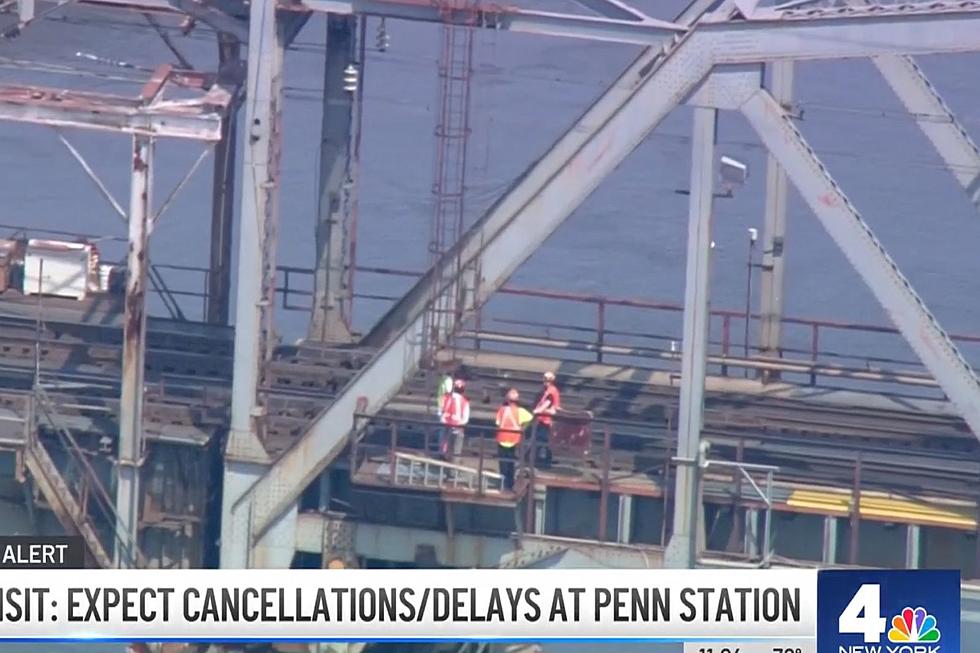 Day of delays on NJ Transit thanks to Portal Bridge signal issues
Crew working on the Portal Bridge (NBC 4 New York)
🔴 A contractor working on the Portal Bridge Thursday caused an electrical issue
🔴 Service was suspended in-and-out of New York Penn for several hours Thursday
🔴 Amtrak expects repairs to continue into the weekend
NJ Transit expects the nightmare of delays and "select cancellations" to continue in-and-out of New York Penn Station Friday.
Service was suspended late Thursday morning because of signal issues on the Portal Bridge. A contractor working on the 112-year-old bridge caused an electrical issue affecting critical systems on the bridge including signals, according to Amtrak spokesman Jason Abrams.
Abrams anticipates work by Amtrak crews to continue into the weekend..
NJ Transit expects 30-minute delays to continue on service on Friday. Rail tickets will be cross-honored by NJ Transit bus, private carrier and PATH at Newark Penn Station, Hoboken and 33rd Street.
All of NJ Transit's lines are subject to cancellations but the biggest impact is on the Morris & Essex Line, according to the list of canceled trains posted by NJ Transit.
NJ Transit said service on Saturday and Sunday will operate on a regular weekend schedule with possible minor delays. Cross honoring will no longer be in effect.
New Jersey 101.5 Fast Traffic has updates all day every 15 minutes on the air and our free app
New Portal Bridge is coming
The Portal Bridge, which is owned and maintained by Amtrak, carries 800,000 NJ Transit and Amtrak passengers trips daily. Work is underway on the new Portal North Bridge which will double capacity.
The project is being funded by the U.S. Department of Transportation, New Jersey, New York, and Amtrak. The Federal Transit Administration committed $767 million in 2021. NJ Transit awarded a $1.56 billion construction award in 2021 for the project, the largest in the agency's history.
The bridge is one portion of the larger Gateway Program that includes the construction of a new rail tunnel beneath the Hudson River and rehabilitation of the current tunnels, which are old and were damaged by flooding during Superstorm Sandy nearly a decade ago.
Previous reporting by Michael Symons was included in this report.
Dan Alexander is a reporter for New Jersey 101.5. You can reach him at dan.alexander@townsquaremedia.com
Click here to contact an editor about feedback or a correction for this story.
NJ teachers and educators caught in sex crime busts
Over the past several years, state lawmakers have taken on the challenge of dealing with accused child predators among the ranks of teachers and educators.
In 2018, the so-called "pass the trash"
law
went into effect, requiring stricter New Jersey school background checks related to child abuse and sexual misconduct.
The follow individuals were arrested over the past several years. Some have been convicted and sentenced to prison, while others have accepted plea deals for probation.
Play ball NJ: These MLB pros are from New Jersey
A fair amount of New Jersey born baseball players have made it to the majors. These pros, active to start the 2023 season, all have NJ roots.
Top 20 highest average property tax bills in NJ for 2022
Based on the average residential property tax bill for each town in New Jersey in 2022, these are the 20 highest.