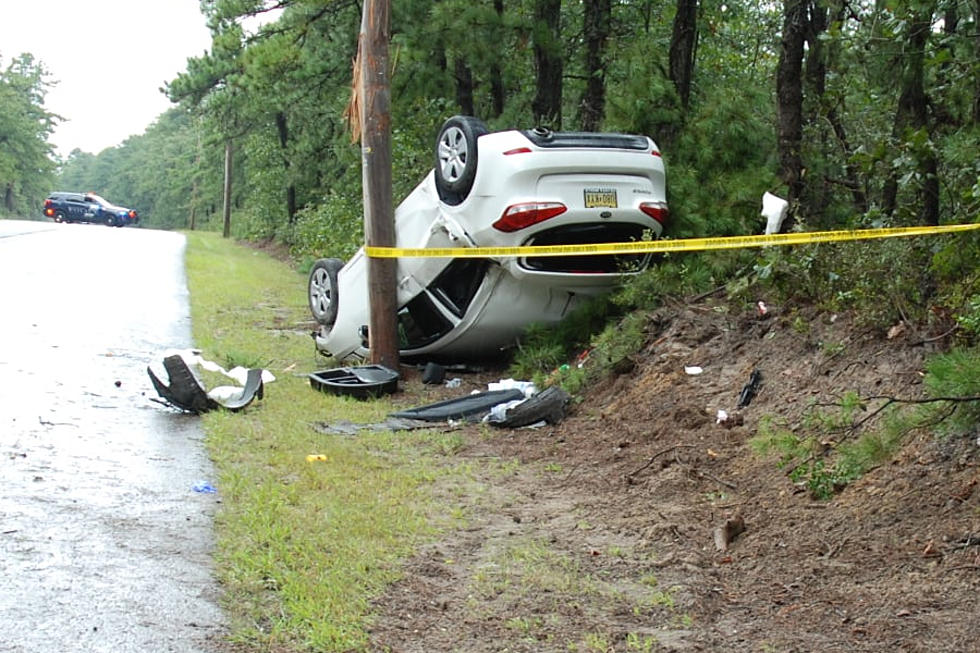 Cops: Driver Suffers Head Trauma After Car Goes Airborne in Ocean County, NJ
Single-vehicle crash on Route 539 in Manchester Township NJ - Photo: Manchester Township Police Department
A nasty one-vehicle accident in Ocean County Thursday afternoon sent one man to the hospital.
The Manchester Township Police Department says their officers responded to a report of a crash on Route 539 in Whiting around 1:15 PM. Cops arrived to find a car that was driven by 24-year-old Justin Thomas of Lakewood on its roof and leaning into a utility pole.
An investigation revealed Thomas was driving northbound when his car left the road and went into the dirt shoulder. Eventually, it went up an embankment, which caused the vehicle to go airborne and overturn, and it then struck a tree and a utility pole, which caused it to land on its roof.
Thomas, who suffered head trauma in the accident and who was the only person in the car, was taken to Jersey Shore University Medical Center in Neptune for treatment of non-life-threatening injuries.
The investigation into the crash continues but police failure to maintain lane and unsafe speed during rainy weather appears to be contributing factors.
The most dangerous roads in Ocean County and across New Jersey
The WORST Ocean County Roads for Traffic Jams
Avoid these Ocean County Roads (okay, easier said than done). These are the worst places to get stuck in traffic in Ocean County.