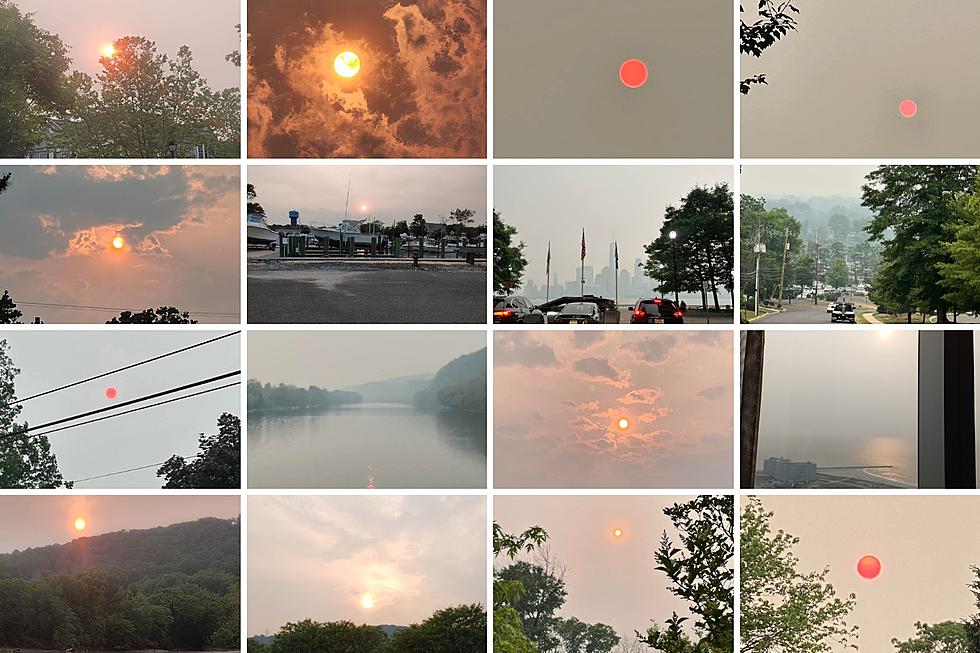 Check out NJ's crazy haze, suffocating smoke, and ominous sky
(Photos from Facebook: Aaron Jay, Aimee Frank, Ann Cartwright Argila, Christine Buono Greenbush, Crystal Vidalis, Ginger Lenart Oliszewski, Glenn Watson, Chelsea Van Ess, Jamie Marie Bonfanti, Lizzy Kuhlken, Lori DiLeo Fellin, Michele Belle, Pamela Lynne Wilkinson, Tami Chicko, Tonya Vu, Tracy Barone)
New Jersey has been buzzing with one particular topic of conversation over the last couple of days: Smoke. The sun and sky are extremely hazy. A smoky smell hangs thick in the air. And air quality ranges from fair to poor.
The cause of the smoke? Blame Canada. Hundreds of wildfires over the provinces of Quebec and Ontario are traveling on northwesterly winds right over New Jersey. (Yes, there is at least one ongoing wildfire in NJ too, but that is a pretty localized concern.)
The smoky, hazy, choking conditions are expected to get better and then worse again on Wednesday. I highly recommend you read my latest weather blog entry for the latest forecast timeline, alerts, and health tips.
In my 17 years as a professional broadcast meteorologist, I can't say I've ever dealt with a situation like this. Wildfires? Sure. Poor air quality. Absolutely, every summer. But this is some seriously unhealthy air. And it has enveloped almost the entire state.
Of course, along with the negative health effects comes a strange sky. Ranging from ominous to vivid. From apocalyptic to Martian. Or maybe something from the Star Wars universe.
I asked my Facebook community to share some photos of the smoke and haze from around New Jersey. And wow did you deliver! Here is a sampling of those pictures, taken on Tuesday and Wednesday. I have put this gallery together to show just how wide-reaching the smoky impacts are. And to commemorate what is already a significant, momentous weather and air quality event.
NJ's crazy haze, choking smoke, and sinister sky
Dan Zarrow is Chief Meteorologist for Townsquare Media New Jersey. Follow him on Facebook or Twitter for the latest forecast and realtime weather updates.
25 costliest hurricanes of all time
Fuhgeddaboudit! Great Jersey names for a hurricane
No question New Jersey has been hit hard by hurricanes and tropical storms the last few years. From Ida, to Henri, to Isaias, to Fay and to Sally. But where on earth are they getting these names? Steve Trevelise thinks if they had "Jersey" names, they would be more intimidating. He asked his Facebook following for some suggestions, here's some of what they came up with.