Internet Trolls Post Fake Missing Persons Reports After Ariana Grande Terror Attack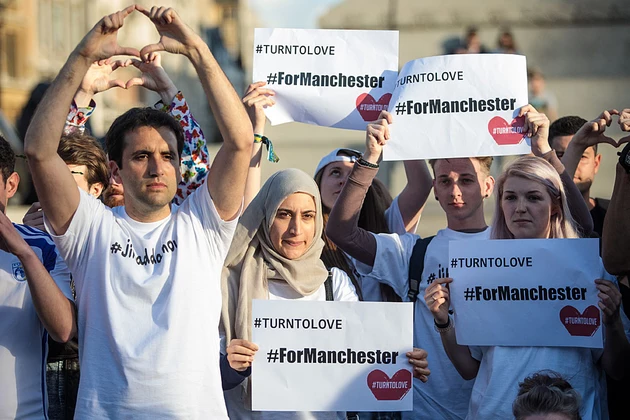 The terror attack at the Ariana Grande concert in Manchester, England may have brought out the best in people, but it's also brought out some of the worst.
In what may be the ultimate in fake news, many people have taken to Twitter, posting photos of people they claim are missing when, in fact, they are totally fine or photos of people who have no connection to the attacks whatsoever.
teens are making up fake 'missing' friends at the ariana grande concert to get RT's. this is so dystopian pic.twitter.com/ghA8HLyydE

— jack wagner (@jackdwagner) May 23, 2017
Fake News! This is NOT Ariana Grande in Manchester. It's from a filmset in 2015. Stay safe! pic.twitter.com/FhoqSISO4e

— Julian Paul (@bildschirmspiel) May 22, 2017
Dude, this photo is fake. I'm not missing. #ArianaGrandeConcert #Manchester https://t.co/tTzkTs0vKz

— Andrea Noel ϟ (@metabolizedjunk) May 23, 2017
.@Twitter PLS STOP TROLLS posting fake #Manchester victim pics. pic.twitter.com/CVEEmAljC4

— Chanson d'automne (@Rogue_Eyre) May 23, 2017
Dear @foxandfriends this is fake some of those people are known YouTubers like @ProSyndicate pic.twitter.com/Ywf1jBZVQK

— KEEM (@KEEMSTAR) May 23, 2017
My murdered daughter's picture used she was killed almost 4 years ago not last night not happy pic.twitter.com/NtHBGkpjLY

— Samantha Shrewsbury (@youknowimfit) May 23, 2017
My son was in the Manchester Arena today

He's not picking up my call!

Please help me pic.twitter.com/VZxkp6nVBN

— Zero (@GamerGateAntifa) May 22, 2017
That last tweet above is actually YouTube personality TheReportofTheWeek, who posted a video letting everyone know he's fine — and in the United States, far from where the attacks took place.
Subscribe to SoJO 104.9 FM on
The motivation for spreading the misleading info is unclear at this time, leaving anyone to guess just why they would pull a stunt like this, especially in the face of such a tragedy, although there is the possibility the people like the attention, which can be massive — including when you make it to Fox News.

Source:
Internet Trolls Post Fake Missing Persons Reports After Ariana Grande Terror Attack